The Open Door journal
From The Evanescence Reference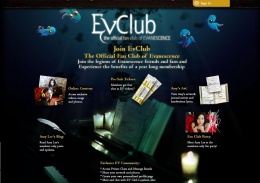 Journal with handwritten lyrics, artworks and journal entries made by Amy Lee during the Open Door era. It was published exclusively in October 2009 on the band's official paid forum, EvClub, which is no longer active.[1] It was possible to browse the 11 pages of the journal through the gallery of images of the forum that was used to upload a series of exclusive content.
This is what Amy wrote on January 10, 2010 in a post some time after the journal was published:
| | | |
| --- | --- | --- |
| | I'm glad you like the Open Door journal excerpts, I meant to have those up ages ago when the last album was fresh, but it is pretty fun looking back on it now while gearing up for the next one... Talk to you soon![2] | |

Three pages of the journal include exclusive drawings, and the other eight pages are handwritten lyrics of nine songs from The Open Door.
Pages
See also
Notes
↑

Journal cover

↑ Handwritten lyrics of Cloud Nine. A cloud was drawn with "Cloud 9" written in it, making a reference to the song title. Outtake lyrics can be read: "Live a little lie for me, anything that breathes / can bleed- show me you can feel ..."
↑ Handwritten lyrics of Lithium. Outtake lyrics can be read: "I can't break thru your bitterness / I can't survive in you be without".
↑ Handwritten lyrics of Lose Control. Two animals were drawn on the page, a little bird and a sheep. The latter is probably a reference to the verse: Mary had a lamb, his heart black as coals. If we play very quiet (my lamb) Mary never has to know.
↑ Handwritten lyrics of Lacrymosa. It features the drawing of a baby rhinoceros with a tag "Lily" on her neck. It can be noted that the bridge has different lyrics: "there's no time to waste on digging my own grave" instead of "giving up- my love wasn't enough".
↑ Handwritten lyrics of Sweet Sacrifice. It contains deleted lyrics: "... more you've found yourself alone / One day I'm gonna forget the pain ..."
↑ Handwritten lyrics of Weight of the World. It features the drawing of two snails, a big one and a small one. The latter leaves a trail of stars behind it.
↑ Handwritten lyrics of Your Star. On the title "Your Star", the "a" has been replaced by a star. On the page were made two drawings depicting a butterfly with bone and skulls instead of its body, and a small army called "zombie soldiers".
↑ Handwritten lyrics of Call Me When You're Sober.
↑ Handwritten lyrics of Good Enough. A dedication "for Josh" can be seen under the song title.
↑

Page with a drawing depicting a whole series of animals.
Reference
Albums

Solo
Compilation appearances
With Evanescence

Singles
Associated acts
Related people
Related organizations
Related