Johnny Cash
From The Evanescence Reference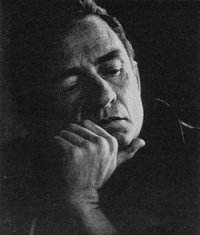 Johnny Cash, born John R. Cash (Kingsland, February 26, 1932 – Nashville, September 12, 2003), was a singer and songwriter of many folk and talking blues songs. Amy Lee is a great fan of Johnny.
God's Gonna Cut You Down
See also: God's Gonna Cut You Down
In 2006, Amy took part to the recordings of the Johnny Cash tribute video to "God's Gonna Cut You Down", directed by Tony Kaye. During the shooting, many celebrities had the opportunity to participate in the video. Amy's scene was recorded at the Trinity Church in Manhattan (New York).
| | | |
| --- | --- | --- |
| | It was a shoot for the new Johnny Cash video. The concept is all these celebrities — Justin Timberlake, Tony Hawk, P. Diddy — dressed in black like Johnny Cash. You know, expressing the pain of the world. They said I could do whatever I wanted, so I said, 'Why don't I go to a cemetery and lay some flowers on a grave?' We shot it at Trinity Church. "It was really creepy[1]. | |
We Walk The Line: A Celebration of the Music of Johnny Cash
On April 20, 2012, musical artists and friend reunited to celebrate Johnny Cash's life during the "We Walk The Line: A Celebration of the Music of Johnny Cash", in the Moody Theatre in Austin, TX 78701. The concert, which was placed in the Austin City Limits Live at The Moody Theater in the year in which the artist should have celebrated his 80th birthday, was not only to pay homage to Cash and to his music, but also to his roots and inheritance. During the concert artists who have won or have been nominated to the GRAMMYs such as Carolina Chocolate Drops, Kenny Chesney, Chris Cornell, Ronnie Dunn, Jamey Johnson, Kris Kristofferson, Ray LaMontagne, Amy Lee and Lucinda Williams, and such as Brandi Carlile, Andy Grammer, John Hiatt, Shooter Jennings e Rhett Miller performed. The tickets for the concert had been available to anyone since February 29, 2012.
| | | |
| --- | --- | --- |
| | Our family is honored to know that this amazing line-up of artists will gather together on one stage to pay tribute to the music and history of my father. There is no doubt in my mind that, although he is no longer with us in body, his spirit will shine true on this night thanks to these inspired artists.[2] | |

The concert was recorded and will be published in a CD/DVD boxset and Blu-ray under Sony's label Legacy Recordings[3]. Amy performed a cover of "I'm So Lonesome I Could Cry"[4] and, at the concert's ending, "I Walk The Line" with all of the other invited artists[5].
Performances
"Get Rhythm" - Andy Grammer
"I'm So Lonesome I Could Cry" - Amy Lee
"Hey Porter" - Buddy Miller
"Why Me Lord?" - Shelby Lynne
"Help Me Make It Through the Night" - Pat Monahan (Train)
"It Ain't Me Babe" - Pat Monahan e Shelby Lynne
"Sunday Morning Coming Down" - Jamey Johnson e Kris Kristofferson
"Jackson" - Carolina Chocolate Drops
"Wreck of the Old '97" - Rhett Miller (Old '97′s)
"Ring of Fire" - Ronnie Dunn
"When the Man Comes Around" - Matthew McConaughey
"Cocaine Blues" - Shooter Jennings & Amy Nelson
"Hurt" - Lucinda Williams
"Long Black Veil" - Samuel Beam (Iron & Wine)
"Big River" - Kris Kristofferson
"Cry, Cry, Cry" - Sheryl Crow
"If I Were a Carpenter" - Willie Nelson & Sheryl Crow
"I Still Miss Someone" - Willie Nelson
"Highwaymen" - Kris Kristofferson, Willie Nelson, Jamey Johnson e Shooter Jennings
"I Walk The Line" - everyone
Notes and References
External Links