Rock Fest WI
From The Evanescence Reference

Rock Fest, since 1994, is the largest Rock Music and Camping Event in the US, featuring the best of classic and modern rock & metal. It is an annual four-day (Wednesday bonus day included for three-day ticket holders) music festival located near the town of Cadott, Wisconsin.
Rock Fest 2019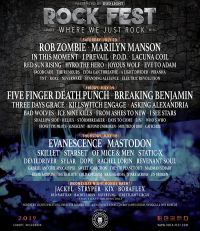 Evanescence first played and headlined the festival on Thursday, July 18, 2019.
Setlist
Rock Fest 2022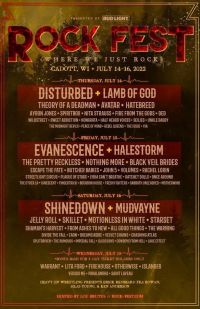 Evanescence headlined the festival on Friday, July 15, 2022. Before the set, Amy Lee joined Halestorm on stage to duet on the song Strange Girl.
Setlist
Made of Stone
Going Under
Lithium
Weight of the World
Call Me When You're Sober
Imaginary
Bring Me to Life
My Immortal
References
Albums

EPs
Studio
Demo
Live
Compilation

Singles
Promotional singles
Evanescence stuff