William Boyd
From The Evanescence Reference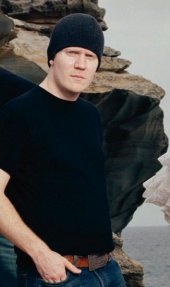 William James Boyd (born April 27, 1979) was formerly the bass guitarist for Evanescence from 2003 to 2006. After Fallen was completed, he was hired to play on the Fallen tour, along with the other tour players Rocky and John.[1] None of the tour players were part of the making of Fallen. In a 2003 interview, Ben said that only Rocky could play on the next Evanescence album and John and Will weren't needed on the next album.[2] Will had played live on some pre-Fallen Evanescence shows, e.g. the Vino's Bar concert in January 1999.[3] He's been a part of multiple bands, and co-wrote his band's song "So Close",[citation needed] which Evanescence covered on their 1998 EP.[4]
Will recorded bass on Evanescence's second album The Open Door and co-wrote the B-side If You Don't Mind, later included on Lost Whispers in 2016.[5] He left Evanescence in June of 2006 after recording bass for The Open Door, as he didn't want to embark on another long tour and wanted to take a break and spend time with his family.[6]
Prior to Evanescence, Will spent stints with Little Rock, AR punk bands such as The Visitors and Lucky Father Brown. He has also been a part of the bands Two Spines and American Princes.
Links
References
Albums

EPs
Studio
Demo
Live
Compilation

Singles
Promotional singles
Evanescence stuff