Nick Raskulinecz/it
From The Evanescence Reference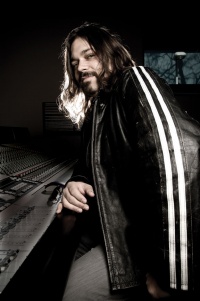 Nick Raskulinecz (nato in Knoxville, Tennessee) è un produttore discografico americano vincitore di un Grammy. Vive a Los Angeles, California.
Nick è il produttore del terzo album degli Evanescence. Secondo alcune dichiarazioni di Will Hunt, gli Evanescence sarebbero dovuti entrare in studio, il primo marzo, insieme a questo produttore per registrare il terzo LP[1][2]. Tali informazioni sono state poi dichiarate poco accurate da fonti ufficiali. In un'intervista del 13 aprile 2011 con Spin.com, è la stessa Amy a confermare l'entrata in studio del nuovo produttore dichiarando inoltre che la collaborazione con Steve Lillywhite non aveva dato i risultati sperati. Questo è quello che ha dichiarato Amy sul nuovo produttore:
| | | |
| --- | --- | --- |
| | I miei album preferiti che sono usciti recentemente sono quelli degli Alice in Chains e dei Deftones, e lui li ha prodotti entrambi. Amiamo lavorare con lui, rende tutto così piacevole. Scrivere con la band e lavorare con un produttore heavy rock ha reso l'album più di una semplice incisione rock | |
Al concludersi del 2019 Nick ha mixato la cover degli Evanescence di The Chain dei Fleetwood Mac per la promozione del videogioco Gears 5[3]. La band ha collaborato nuovamente con Nick per il quarto album, The Bitter Truth[4]. Inizialmente Nick avrebbe dovuto produrre solo quattro canzoni in quanto la band aveva intenzione di collaborare anche con altri produttori, ma a causa dell'emergenza sanitaria COVID-19 si è preferito assegnare solamente a lui l'intera produzione[5]. Durante le sessioni di registrazione dell'album, Nick ha avuto modo di collaborare alla composizione stessa del quinto singolo, Better Without You.
Ha inoltre prodotto il duetto tra Amy Lee e Lzzy Hale degli Halestorm, Break In[6].
Note e Fonti
↑ Leggi l'intervista di Will Hunt.
↑ Goodman, William (April 13, 2011). "Amy Lee Talks Evanescence's Comeback LP". Spin. https://www.spin.com/2011/04/amy-lee-talks-evanescences-comeback-lp/.
↑ "Amy Lee Says New Evanescence Music Out By April Tour". Hidden Jams. February 28, 2020. https://hiddenjams.com/2020/02/28/amy-lee-evanescence-music-april-tour/.
↑ "EVANESCENCE's New Album, 'The Bitter Truth', Will Arrive This Year, Says AMY LEE". Blabbermouth.net. May 8, 2020. https://www.blabbermouth.net/news/evanescences-new-album-the-bitter-truth-will-arrive-this-year-says-amy-lee/.
↑ "Amy Lee on the Future of Evanescence". YouTube. August 25, 2020. https://www.youtube.com/watch?v=p2FAJd6r-ks.
↑ Hale, Lzzy (May 8, 2020). "The studio recorded version of #BreakIn will be unleashed to the world in August!". Instagram. https://www.instagram.com/p/B_8QITMhP_F/.