I'll Never Be Ready
General Information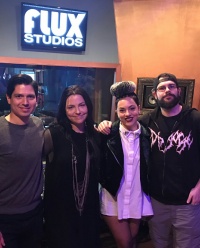 I'll Never Be Ready is a ballad from Veridia's debut album that features Amy Lee on the piano.
On March 7, 2018, Veridia tweeted that lead singer, Deena Jakoub, is in New York City meeting with "a close friend who is recording piano for a very special song".[1] It's known that Deena and Amy have remained very good friends after Veridia opened for Evanescence in 2015 and 2016, which made fans speculate whether or not the "close friend" is Amy.
The next day, Amy posted a photo of herself and Deena together with the caption "Making beautiful music together on #internationalwomensday",[2] and soon after, Veridia posted a few more pictures of Amy and Deena in the studio confirming that Amy will be contributing music to I'll Never Be Ready.[3]
The song itself is in tribute to Deena's late father after he passed away in March 2017.[4] She posted this tribute and shared lyrics of the song on Instagram:[5]
| | | |
| --- | --- | --- |
| | There are times when I write a song and I am not entirely sure why I decided to tell that particular story... and then something transforming happens in my life that brings new depth and meaning to it.... sometimes painful, sometimes renewing, or a mix of indescribable emotion. I wrote this when I knew my Dad's illness was getting worse. I had no idea I would only have a little over 2 years left with him. Maybe this song was only for him, maybe it's only for me, maybe we'll release it one day. But, for now, I just want to share these words in honor of his genuine love and maybe some of you will find something in them that you needed. | |

Veridia performed the song with Amy Lee at their album listening party on October 6, 2018. Watch a video of the performance here.
Versions
Studio Versions
I'll Never Be Ready (feat. Amy Lee)
Recording date: January - March 2018
Status: To be released October 26, 2018
Released on: The Beast You Feed (track #10)
Length: TBC
Live Versions
I'll Never Be Ready (with Amy Lee)
Performing dates: October 6, 2018
Example: Analog at Hutton Hotel, Nashville, TN, USA (October 6, 2018)
Lyrics
You were the one to hold me
The warmth of your arms would heal my wounds
You were the one who knew me
When nobody else understood


Even if I knew when and I saw the signs
Even if you told me it'd be alright
Even if I had the power to watch the clock wind down, I won't
Cause you're here right now
And I'll never be ready, ready, ready
To say goodbye
I'll never be ready, ready, ready
No I'll never be ready, ready, ready


I don't have to think about it
A world without you is not what I want
And still you must leave and I don't like it
But I'll never forget how much I was loved


Even if I knew when and I saw the signs
Even if you told me it'd be alright
Even if I had the power to watch the clock wind down, I won't
Cause you're here right now
And I'll never be ready, ready, ready
To say goodbye
I'll never be ready, ready, ready
No I'll never be ready, ready, ready
No I'll never be ready, ready, ready


Not all of us are lucky enough
To know a love so unconditional
I can't imagine what I would have been without you
You showed me how to fly and that I might be invincible


But I'll never be ready
To say goodbye
I'll never be ready, ready, ready
No I'll never be ready, ready, ready
No I'll never be ready, ready, ready

References
Albums

Solo
Compilation appearances
With Evanescence

Singles
Associated acts
Related people
Related organizations
Related