Epicenter

Epicenter Festival, formally known as Carolina Rebellion, is a hard rock and heavy metal music festival that takes place annually in North Carolina.
Evanescence have performed at this festival in 2012 and will play there again in 2019.
Carolina Rebellion 2012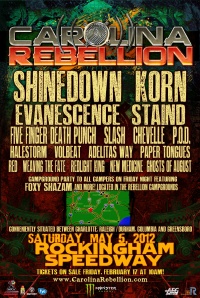 Evanescence performed at the festival on Saturday May 5, 2012 in support of their third, self-titled album.
Setlist
01. What You Want
02. Going Under
03. The Other Side
04. Made of Stone
05. Lithium
06. Your Star
07. My Heart Is Broken
08. Sick
09. The Change
10. Call Me When You're Sober
11. Imaginary
12. Never Go Back
13. Bring Me to Life

Epicenter 2019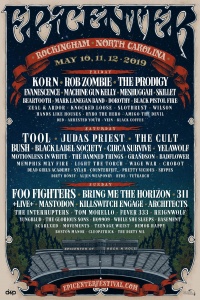 Evanescence have been confirmed to perform at Epicenter on Friday May 10, 2019.
Setlist
TBC
Albums

EPs
Studio
Demo
Live
Compilation

Singles
Promotional singles
Evanescence stuff