Download Festival

Download Festival is a British rock festival, held annually at Donington Park in Leicestershire, England, since 2003. It is the most popular British summer rock and heavy metal festival. Evanescence have performed at this festival twice - 2003 and 2007.
Download Festival 2003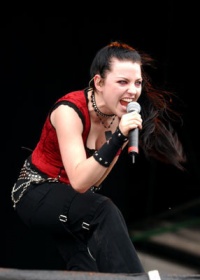 Evanescence performed on Sunday June 1, 2003 on the Main Stage whilst touring for Fallen.
It's unknown whether this performance was recorded as there are no videos of this show online.
Setlist
The setlist for this show is not exactly known, but the tracks below are taken from their performance at Rock am Ring 2003, which was six days after, so it would be most likely the same.
01. Going Under
02. Haunted
03. Taking Over Me
04. Everybody's Fool
05. My Last Breath
06. Farther Away
07. Even In Death
08. Zero (The Smashing Pumpkins cover)
09. Bring Me to Life
10. Tourniquet
11. Imaginary
12. Whisper

Download Festival 2007
Evanescence performed on Sunday June 10, 2007 on the Main Stage whilst touring for The Open Door. They played before the headliner of the day, Iron Maiden.
Their entire performance was televised and can be found online.
Setlist
01. Lose Control (Intro)
02. Weight of the World
03. Sweet Sacrifice
04. The Only One
05. Cloud Nine
06. Lithium
07. Whisper
08. Haunted
09. Tourniquet
10. Call Me When You're Sober
11. Imaginary
12. Bring Me to Life
13. All That I'm Living For
14. Lacrymosa
15. Your Star

Albums

EPs
Studio
Demo
Live
Compilation

Singles
Promotional singles
Evanescence stuff