Summer Sonic
From The Evanescence Reference

Summer Sonic, also known as Supersonic, is an annual two- or three-day rock festival held at the same time in Osaka and Chiba, Japan. The majority of the bands playing in Osaka the first day go to Chiba the following day and vice versa. The line-up contains Japanese rock musicians from major and independent record companies, plus international acts. In 2017, the festival was expanded to include Shanghai, China.
Summer Sonic 2023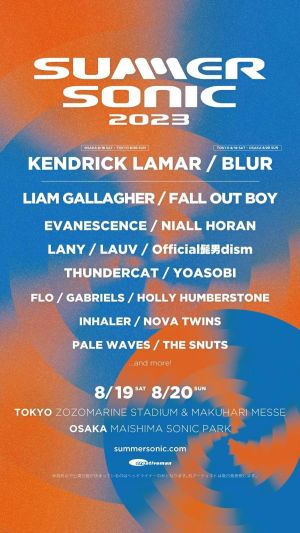 Evanescence are scheduled to play at the festival for the first time on 19th August in Osaka, and 20th August in Tokyo.[1][2]
Summer Sonic Osaka 2023
Setlist
Summer Sonic Tokyo 2023
This show was livestreamed in Japan.
Setlist
Artifact/The Turn (Intro)
Broken Pieces Shine
What You Want
Going Under
Take Cover
Call Me When You're Sober
Lithium
Wasted on You
Whisper (first time since 2019)
End of the Dream
Better Without You
Imaginary
Use My Voice
My Immortal
Bring Me to Life
References
Albums

EPs
Studio
Demo
Live
Compilation

Singles
Promotional singles
Evanescence stuff