Origin (album)/es
Para la canción, vea Origin (song).
Información General
Origin se lanzó el 4 de noviembre de 2000, en Little Rock, Arkansas. Existen muchas versiones de Origin, pero sólo hay uno verdadero con un listado de pistas concreto. Sólo se fabricaron 2500 ejemplares del original. Bigwig Enterprises dejó de vernderlos en febrero de 2003 (uno o dos días antes de que se lanzara el álbum Daredevil Soundtrack) y lo descatalogó.[1]
En EBay se venden copias verdaderas y falsas por más de 200€. Amy Lee no lo considera un álbum, sino más bien una colección de demos que arreglaron para enviarlos a otras discográficas.
El álbum contiene versiones que aparecen en Fallen: My Immortal, Imaginary y Whisper.
El CD original contiene una pista oculta justo delante de la pista 1. Para escucharla, tienes que rebobinar (mientras escuchas lo que se rebobina) la primera canción y llegar a -0:24 aproximadamente. Es una pista descartada que iría al final de Anywhere, en la cual cantan Amy Lee y David Hodges y apartece una cita de la película My Boyfriend's Back:
| | | |
| --- | --- | --- |
| | There's a lot of prejudice against the undead. | |
La carátula la creó Rocky Gray.
El final del álbum iba a incluir la canción Listen To The Rain entre las canciones Eternal y Demise. La primera versión antes de ser lanzada incluía esta canción, en la versión final no se incluyó. 'Origin' se diferencia de otros discos de Evanescence en que se utiliza más instrumentación electrónica y muchas pistas se unen entre ellas.
Canciones
Descartadas
Catherine (se quiso incluir en Origin - [http://www.mtv.com/bands/e/evanescence/news_feature_040227/index2.jhtml MTV
interview])
Formación
Guests
Carátula
Las imágenes siguientes son originales tomadas del equipo de producción Bigwig Enterprises (no escaneadas). El disco está escaneado, pero porque el original no se parece al actual. Éstas son las imágenes más precisas que se puedan conseguir. Están ligeramente modificadas con filigrana para evitar que se utilicen para copias falsas.
En el interior hay un libreto de tres caras semibrillante, papel ligero con imágenes de color en una cara y el reverso con una escala de grises. El libreto es de una sola cara. El plástico donde está el disco es opaco. En el interior del libreto, la última hoja se puede ver un texto en latín extraido de la Biblia, Romanos 6:4 : Consepulti enim sumus cum illo per baptismum in mortem ut quomodo surrexit Christus a mortuis per gloriam Patris ita et nos in novitate vitae ambulemus ('Por el bautismo fuimos sepultados con él en la muerte, para que así como Cristo resucitó por la gloria del Padre, también nosotros llevemos una Vida nueva.').
Descarga
Se puede descargar Ripeo perfecto del álbum aquí:
—si se graba el CD en formato.cue se creará un silencio en lugar de la pista oculta, esto es, no se grabará la pista.
Falso "Re-lanzamiento"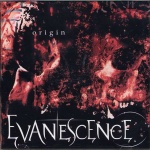 In 2003, a "re-release" of Origin came out supposedly under the label 'Epic' although was in fact a fake. It contained most of the tracks from the real Origin, however with some tracks, different versions were used. In the case of Whisper and My Immortal, the Fallen versions were used.
The audio portion of the CD was very poorly produced, and in most cases, the songs were either corrupted or of low quality (as if downloaded as an MP3 and then burned on the CD). This bootleg has very elaborate and professional looking artwork, with a silk screened, factory pressed CD and a fold out booklet with a small biography (which mostly rambles on about the 'Christian band' controversy).
The CD contained 'Bonus Tracks' such as Missing (which is very corrupted and of extremely low quality), the Nirvana cover 'Heart-Shaped Box', and a [rather bad] trance remix of Bring Me To Life.
The CD itself has a red silkscreen with black bird design with the word "sorry" on it. The jewel case has a gothic red design with a speckled face on the back along with the track listing. The inside tray artwork has an image of the band (the one from the booklet in Fallen). The cover has a skull design that is similar to the actual album released by the band. The most noticeable difference is the Evanescence Logo, which is pointy and unlike any design officially released by the band.