Hills of Rock
From The Evanescence Reference

Hills of Rock is an annual music festival in Plovdiv, Bulgaria. Following the established practice of similar events in Europe and around world, the concept is based on sustainable development – the goal is to make the Plovdiv festival a recognisable feature on Bulgaria's and Europe's music maps.
Hills of Rock's first edition was in 2017 and took place at Plovdiv's Rowing Canal. Some of the world's greatest rock stars, each marked by its own music style and sound, come out on different stages. The festival unites the emotions and memories of the fans, who can experience 'live' the magic of rock music.
Hills of Rock 2017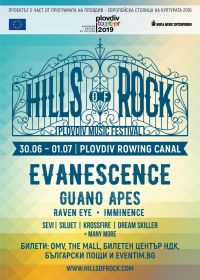 Evanescence performed at the festival in it's first year on Friday, June 30, 2017.
Setlist
References
Albums

EPs
Studio
Demo
Live
Compilation

Singles
Promotional singles
Evanescence stuff