Hammerstep
From The Evanescence Reference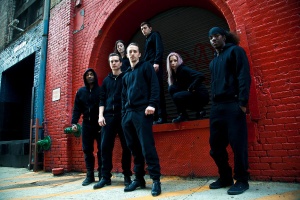 Hammerstep is an award-winning Irish dance and production company based in NYC, founded in 2009 by former principal lead dancer for Riverdance Jason Oremus and two-time World Irish Dance Champion Garrett Coleman.
Amy Lee performed with Hammerstep, Dave Eggar and Chuck Palmer on the PBS show Bluegrass Underground on March 8, 2014.[1] They premiered live a instrumental song, Resurrection, featuring Amy's vocalisation and Hammerstep's Irish tap dance.[2]
Amy composed the score to Hammerstep's short film Indigo Grey: The Passage with Dave Eggar and Chuck Palmer.[3][4] In addition to Ressurection, the score also includes Between Worlds (from War Story's soundtrack album Aftermath).
External links
References
Albums

Solo
Compilation appearances
With Evanescence

Singles
Associated acts
Related people
Related organizations
Related