Concerto di Natale
From The Evanescence Reference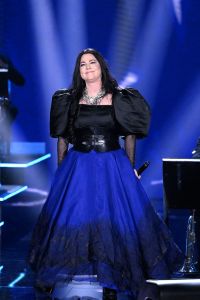 The Concerto di Natale is an Italian Christmas musical television program born in 1993 and broadcast annually on television usually on the evening of Christmas Eve which brings together different Italian and international singers every year.
The 2022 edition was held on December 17, 2022 at Auditorium della Conciliazione, in Rome. Amy Lee performed Bring Me to Life with Will Hunt, and Across the Universe with a live orchestra and Veronica Rudian on fortepiano. The show was broadcasted on New Year's Day in Italy on CANALE 5. It was going to be streamed on January 6, 2023 on YouTube at 8:00am Eastern / 2:00pm CET,[1] but it was postponed to February 1, 2023 due to the passing of Pope Benedict XVI.[2]
The dress Amy wore was designed by Valerj Pobega.[1]
Before the concert, Amy and Will and the artists attended a meeting with Pope Francis.
Watch the performances of Bring Me to Life here and Across the Universe here.
Gallery
References
Albums

Solo
Compilation appearances
With Evanescence

Singles
Associated acts
Related people
Related organizations
Related