Reflection
General Informations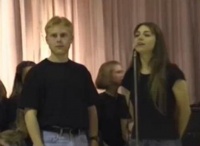 Written by: Matthew Wilder and David Zippel
Reflection is a song originally performed by Christina Aguilera for the Walt Disney movie Mulan, written by Matthew Wilder and David Zippel.
The song was covered by Amy Lee and the Pulaski Academy choir at their high school choir concert in spring 1999.
A clip of the performance was posted on YouTube by Josh [1][2] aka jreed2003 (on youtube) who performed the duet with Amy.
Lyrics
Amy:
Look at me
You may think you see who I really am
But you'll never know me
Everyday
Is as if I played a part


Amy & Josh:
Now I see
If I wear a mask
I can fool the world
But I cannot fool my heart


All:
Who is that girl I see
Staring straight back at me?...
Notes and References
↑ Not referring to Josh Hartzler. The surname to this Josh is unknown.
Albums

EPs
Studio
Demo
Live
Compilation

Singles
Promotional singles
Evanescence stuff