Origin
Origin was released on November 4th, 2000, in Little Rock, Arkansas. Many different versions of Origin exist, but there's only one true tracklisting. Only 2500 copies of the original were made. Origin sold out in February 2003. Real and fake copies are bought on EBay for upwards of $300. Amy Lee does not consider this an album, but rather a collection of demos that they "dressed up" to send to different major labels.
The album contains early versions of songs found on Fallen: My Immortal, Imaginary, Whisper.
The original release contained a hidden track, which is located before the first track. In order to hear it, you have to rewind (while hearing what you are rewinding) the first song and reach -0:24 approximately (yes, minus). It is an outtake of the end of the bridge of Anywhere, featuring Amy Lee and David Hodges singing and apparently Ben Moody says a few words at the end of it, just before Origin begins.
The end of the album was originally supposed to include the song Listen To The Rain between the songs Eternal and Demise. Pre-releases of the album included this song, but the finished product did not include the song (Listen to pre-release ending).
Track Listing
0. Anywhere (Hidden Outtake)
Outtakes
Lineup
Guests
Fake "Re-Release"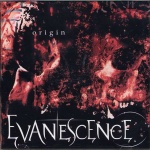 In 2003, a "re-release" of Origin came out supposedly under the label 'Epic' although was infact a fake. It contained most of the tracks from the real Origin, however with some tracks, different versions were used. In the case of Whisper and My Immortal, the Fallen versions were used.
The audio portion of the CD was very poorly produced, and in most cases, the songs were either corrupted or of low quality (as if downloaded as an MP3 and then burned on the CD). This bootleg has very elaborate and professional looking artwork, with a silkscreened, factory pressed CD and a fold out booklet with a small biography (which mostly rambles on about the 'Christian band' controversy).
The CD contained 'Bonus Tracks' such as Missing (which is very corrupted and of extremely low quality), the Nirvana cover 'Heart-Shaped Box', and a [rather bad] trance remix of Bring Me To Life.
The CD itself has a red silkscreen with black bird design with the word "sorry" on it. The jewel case has a gothic red design with a speckled face on the back along with the tracklisting. The inside tray artwork has an image of the band (the one from the booklet in Fallen). The cover has a skull design that is simmilar to the actual album released by the band. The most noticeable difference is the Evanescence Logo, which is pointy and unlike any design officially released by the band.
On the back artwork the fine print/credits are actually copied from the back of Fallen.
Albums

EPs
Studio
Demo
Live
Compilation

Singles
Promotional singles
Evanescence stuff