Guy Sigsworth
From The Evanescence Reference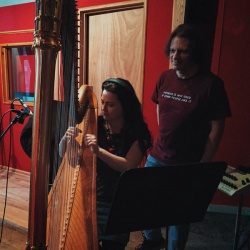 Guy Sigsworth is a British composer, producer and songwriter. During his career he has worked with many artists, including Seal, Björk, Goldie, Madonna, Britney Spears, Kate Havnevik, Imogen Heap, Bebel Gilberto, Mozez, David Sylvian, Alanis Morissette, Eric Whitacre and Alison Moyet. He has also collaborated with many celebrated instrumental musicians, including Talvin Singh, Jon Hassell and Lester Bowie. He was previously a member of the band Frou Frou together with Imogen Heap.
He flew to New York for a week in February 2016 to work with Amy Lee on the song Love Exists. Amy was asked what it was like to work with him in a Facebook Q&A in March 2016:
Q: How was it to work with Guy? I know you're such a huge fan of him as many of us. He had made some of the most incredible records with many powerful artists and now you join this list, it should happen before. Hope you work together many other times.

Amy: It was a really special experience. Sometimes you try working with someone new and it takes some real adjusting to get in the groove. I was often surprised in our process together how similarly our brains were working! We were hearing and wanting a lot of the same things, and that just made for a really gratifying piece of music in the end. He and his engineer Jake were so nice, we had a great time together all week! We only did one song this time, but I definitely think we will be making more music together soon.

After Love Exists was officially released in February 2017, this is what Amy said in addition about working with Guy:
| | | |
| --- | --- | --- |
| | I showed my idea to one of my dream producers, Guy Sigsworth, and somehow convinced him to come to New York and re-create the song with me. Dave Eggar contributed his lush string arrangement and we all just lived in this song for a week at Flux Studios on the lower east side. What an incredibly fulfilling experience it was to make this beautiful thing. And with such a talented, down-to-earth, and inspired team- with no rules or limitations beyond the ones we created. Guy pushed me in new ways and I learned a few things. It was a unique honor to work beside someone I admire so much on something that at the time had no plan, no album to go on, and made no sense other than how good it felt. | |
Albums

Solo
Compilation appearances
With Evanescence

Singles
Associated acts
Related people
Related organizations
Related