Fuji Rock Festival
From The Evanescence Reference

Fuji Rock Festival is an annual rock festival held in Naeba Ski Resort, in Niigata Prefecture, Japan. The three-day event, organized by Smash Japan, features more than 200 Japanese and international musicians, making it the largest outdoor music event in Japan. In 2005, more than 100,000 people attended the festival.
It is named so because the first event in 1997 was held at the base of Mount Fuji. Since 1999 the festival has been held at the Naeba Ski Resort in Yuzawa, Niigata.
Fuji Rock Festival 2003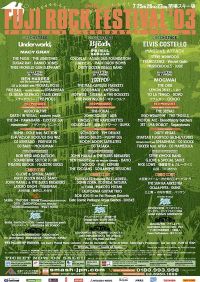 Evanescence performed at this festival for the first time on Sunday, July 27, 2003 as part of their Fallen tour. Parts of the show were recorded and aired and are available to watch online.
Amy Lee mentioned that she got to meet her musical idol, Björk, backstage at the festival after Amy watched her performance for the first time.[1]
Setlist
References
Albums

EPs
Studio
Demo
Live
Compilation

Singles
Promotional singles
Evanescence stuff