Seether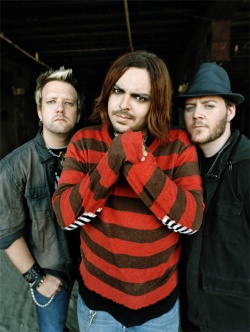 Seether is the name of the band that supported Evanescence in their tour in 2004. Shaun Morgan, the lead vocalist and guitarist of the band, is well-known in the fan community for his relationship with Amy Lee.
The band's origin is South Africa. While still there, the band was called Saron Gas. They changed their name after a request by their new label, Wind-Up Records, to Seether before releasing their first full-length album, Disclaimer.
Seether are also known for their collaboration with Amy in Broken, included in the album Disclaimer II. The song became a hit and increased the album's popularity.
Shaun Morgan went on rehab for unspecified reasons in August 2006. This incident is the main subject in Evanescence's Call Me When You're Sober. Now he is out of rehab.
The band released Finding Beauty in Negative Spaces in October 23, 2007 (October 19 in South Africa). According to Shaun, the album doesn't contain any song in response to Call Me When You're Sober.
The first single off the latest album, Fake It, has reached #1 in the U.S. Mainstream Rock chart.
Band members
Shaun Morgan - vocals, guitar
Dale Stewart - bass
John Humphrey - drums
Discography
Fragile (as Saron Gas) (2000)
Disclaimer (August 20, 2002)
Disclaimer II (June 15, 2004)
Karma and Effect (May 24, 2005)
One Cold Night (July 11, 2006)
Finding Beauty in Negatives Spaces (October 23, 2007)
Trivia
Josh Freese, the drummer for Evanescence in Fallen, joined Seether in 2002, but left the same year.
Links