Maquinaria Festival Dress
From The Evanescence Reference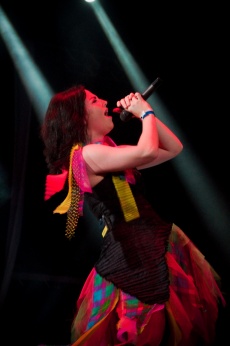 Maquinaria Festival Dress está disponible en español. Ver el artículo

Το άρθρο Maquinaria Festival Dress είναι διαθέσιμο στα ελληνικά. Δείτε το άρθρο

Maquinaria Festival Dress è disponibile in italiano. Vedi l'articolo

Maquinaria Festival Dress está disponível em português. Ver o artigo

The Maquinaria Festival Dress was designed by Amy Lee and Sherif Shalaby especially for Evanescence's two one-off shows in 2009: Secret Show and Maquinária Festival.[1] It was later worn in the Evanescence Tour (2011-2012).
Gallery
Secret Show in New York
Maquinária Festival
Evanescence Tour
Note
Please note that the dress name was coined by fans after its appearance in 2009.
References