DJ Lethal/es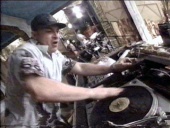 DJ Lethal is conocido por la programación de The Open Door. También hace el teclado, platos, muestras y programación de Limp Bizkit.
Leor Dimant (nacido el 18 de diciembre, 1972 en Riga, Letonia), conocido como DJ Lethal, is un disc jockey y productor, mejor conocido como un miembro de la banda Limp Bizkit, y antiguamente un miembro del grupo Irlandés-Americano House of Pain. .
Ahora está ayudando a otros artistas, co-produciendo su trabajo en su estudio de Hollywood, recientemente trabajando con artistas prometedores como Scott Harris de SHP. Es actualmente el productor principal del supergrupo hiphop La Coka Nostra, el cual incluye a sus antiguos compañeros de House of Pain Everlast y Danny Boy.
También ha figurado en álbumes como 'Roots' de Sepultura y 'The Sinister Urge' de Rob Zombie.
Links