DJ Lethal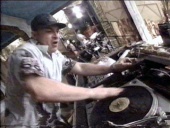 DJ Lethal is credited for the programming on The Open Door. He also does the keyboards, turntables, samples and programming in Limp Bizkit.
Leor Dimant (born December 18, 1972 in Riga, Latvia), known as DJ Lethal, is a turntablist and producer, best known as a member of the band Limp Bizkit, and formerly a member of the Irish-American-influenced hip hop group House of Pain.
He is now helping other artists, co-producing their work in his Hollywood based studio, recently working with up and coming artists such as Scott Harris of the SHP. He is currently the main producer for the hiphop supergroup La Coka Nostra, which includes his former House of Pain mates Everlast and Danny Boy.
He's also been featured on albums such as 'Roots' by Sepultura and 'The Sinister Urge' by Rob Zombie.
Links