Anette Olzon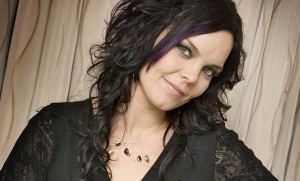 Anette Ingegerd Olsson (born 21 June 1971), known by the stage name Anette Olzon, is a Swedish singer, best known as the former lead vocalist of Finnish symphonic metal band, Nightwish, from 2007 to 2012. She is also the former vocalist of Swedish classic rock band Alyson Avenue.
Alyson Avenue (1999 - 2005)
Olzon then joined Alyson Avenue, at first only as a studio singer, but later as their leading lady, replacing the male vocalist. The band received huge feedback for a demo they sent out in 1999, and Alyson Avenue was soon able to contact various labels. Main composer and keyboardist Niclas Olsson gathered the band, recording a four track demo which resulted in a record deal with AOR Heaven.
In November 2000, their debut album Presence of Mind was released to positive reviews. The next album Omega was released in 2004. Olzon left Alyson Avenue in 2006. In May 2009, Alyson Avenue introduced Arabella Vitanc as their new lead vocalist.
Nightwish (2007 - 2012)
Olzon officially joined Nightwish as their new lead singer in early 2007, chosen from about 2,000 applicants of which 10 made it to prove their place in front of the band. The song on her demo tape was the 2002 single "Ever Dream". She replaced the previous singer Tarja Turunen, who was fired in an open letter in the autumn of 2005.
Anette recorded two albums with Nightwish, Dark Passion Play in 2007, and Imaginaerum in 2011. She also starred in the film, Imaginaerum, which includes music from the album of the same name.
On October 1, 2012, Nightwish and Anette went their separate ways. Her final performance with the band was on September 29th, at The Complex in Salt Lake City. She later revealed in an interview that she was, in fact, fired from the band, because she revealed to them she was pregnant. Nightwish made a subsequent statement about her termination, denying that this is the reason, saying they were all congratulative to her, but that "[t]he split with Anette wasn't because of pregnancy or illness. We discovered her personality didn't fit this work community, and was even detrimental to it."
Solo Work
Following her departure from Nightwish, Anette began writing and recording material for a future solo album. It was announced on November 28, 2013 that her debut solo album will be called Shine. On January 27, 2014, it was announced that the release date for her album had been pushed a month, making the new release date March 28, 2014.
The first song from Shine, Falling, was released for digital download on December 17, 2013 along with a lyric video on YouTube. A teaser for the album's first official single, Lies, was posted on Anette's official Facebook page on February 7, 2014; followed by the single's eventual release on February 14, 2014.
On a June 2015 interview, she said there are plans for a future second album, but details are still being discussed with her new label.
On January 19, 2016 Anette released an EP with only two songs, a Swedish song called Vintersjäl and an English song called Cold Outside only available for digital download.
The Dark Element
On August 29, 2017, it was announced that Anette would be collaborating with former Sonata Arctica guitarist, Jani Liimatainen, for a project known as The Dark Element. The debut self-titled album was released on November 10, 2017.
On Evanescence
She is a big fan from the band, she told to EvTeam in an interview that she would love to sing together With Amy, from ther favorite songs are Going Under, Bring Me To Life, My Immortal And Many Others...
She has been Listening to the band since fallen, she also told to EvTeam that she wished to sing on the new Evanescence Album, shame the recordings were finished...
Both Bands That Are Completely Different, Different Styles & Different Music, is that many people resent the comparation,
but I see nothing wrong, I admire Evanescence, because they Learned to get rid off the obstacles as well as I do with Nightwish*.
-Anette Olzon to EvTeam
You Can Read The Whole Interview Here : EvTeam
Discography
Alyson Avenue
Presence of Mind (2000)
Omega (2004)
Nightwish
Dark Passion Play (2007)
Imaginaerum (2011)
Solo
The Dark Element
External Links
Anette Olzon
The Dark Element
References