The EvThreads April Fools Prank 2008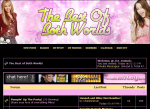 The EvThreads April Fools Prank 2008 is the prank created by the EvThreads staff for the first day of April 2008.
EvThreads turned into a message board titled "The Best of Both Worlds", shocking all users.
Tracie, one of the moderators of the forum, posted:
I'm sure that you're all very confused right now, so I just wanted to let you know what's been going on.

About a month or so ago, Amy was approached by Disney about the possible acquisition of EvThreads. Since it already had a built in database of users in the age range of their target audience, they thought it would be the most logical choice. At first, Amy had been hesistant about selling, but then realized she wasn't sure how long Evanescence's hiatus would be and she could use EvClub to keep in touch with the fans so there was no longer a need for EvThreads.

The mod team was asked to stay on and to choose new members to double the mod team. Since Hannah Montana has a much larger fan base than Evanescence, they were sure that we'd need double the mod power to run this place once the transfer was complete. Speaking of transfer, EvThreads.com will be redirected to thebestofbothworlds.com within a few days. They had been hoping that we would have everything in place by now, but unfortunately there were still kinks that need to be worked out. We just really wanted to get the new board up and running as close to month's end as possible.

Thank you to everyone that helped make EvThreads great and we hope you'll stick around or the new board! For those of you who still want to get your Evanescence fix but can't afford to join EvClub, you can always join EvBoard.com.[1]

The mod team was trying to persuade everyone that this is the truth. They were posting comments like "I can promise ya'll that this is a simple coincidence that the changes come along with April Fool's. And I can also reassure you all that this is no joke. It's legit, plain and simple".
References