Tenacious D
From The Evanescence Reference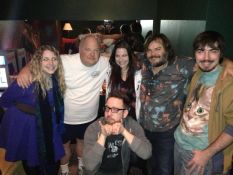 Tenacious D is an American comedy rock duo formed in Los Angeles, California, in 1994. It was founded by actors Jack Black and Kyle Gass, who were members of The Actors' Gang theater company at the time. The duo's name is derived from "tenacious defense", a phrase used by NBA basketball sportscasters Walt Frazier and Marv Albert.
In March 2013, Amy Lee, her sister Carrie, her brother Robby and her husband Josh attended a Tenacious D show and met the band.[1]
On March 13, 2021, Amy covered their song "Kyle Quit the Band" and posted in her Instagram stories.[2]
On September 22, 2022, Evanescence played the same day as Tenacious D at Louder Than Life festival in Louisville. Amy joined them on stage to perform "Kyle Quit the Band" and "Lee." The latter's lyrics were modified to "Amy Lee."[3]
References