MTV Unplugged: Korn
From The Evanescence Reference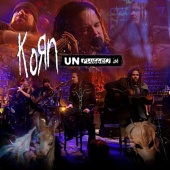 Released March 6, 2007
Released by Virgin Records
Track Listing:
Blind
Freak on a Leash (featuring Amy Lee)
Falling Away From Me
Creep (Radiohead cover)
Love Song
Twisted Transistor
Got the Life
Coming Undone
Make Me Bad/In Between Days (with The Cure)
Throw Me Away
Hollow Life
Notes
Amy Lee sings guest vocals on this album for the song 'Freak On A Leash'. The performance was recorded on December 9, 2006 at MTV studios in Times Square, New York City to a crowd of about 50-60 people. "At the song's conclusion, Lee sprung from her chair and informed the audience that her dress had become stuck on a nail protruding from a leg on Davis' chair. "Don't cry to me," blurted a member of the audience (a line from Evanescence's latest single, "Call Me When You're Sober"), which had the whole room laughing." -from VH1.com: Korn Quiet Down With the Cure, Amy Lee for 'MTV Unplugged'
This is what Jonathan Davis from Korn had to say about the band: "Yeah, we did a couple of shows with [EVANSESCENCE] in Europe and [they] played it," he told The Blitz 99.7 FM. "It's a huge, huge thing when an artist thinks of doing a cover of one of our songs, it just blows us away, and she [EVANESCENCE singer Amy Lee] does it so beautifully. She's told me time and time again that she's a huge KORN fan. What was really cool was that in Europe, they were supposed to headline over us and she refused to do it and made us headline over them. There's a just a lot of respect there. I think she's a great girl and I love that cover — it came out beautifully. The way I hear things in my head sometimes, the more [time I spend] in a heavy band, I'm more about melody and shit like that, so… when I heard [EVANESCENCE's version of 'Thoughtless'], it was really cool. The melodies really pop out.'"
Links