Carly Smithson
From The Evanescence Reference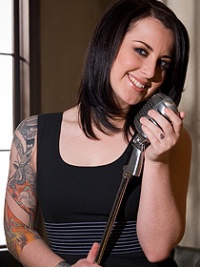 Carly Sarah Smithson (née Hennessy, born 12 September, 1983, in Dublin, Ireland) is a singer-songwriter and actress, associated with several acts. She recorded two solo albums, Carly's Christmas Album and Ultimate High, and was a finalist on American Idol in 2008. She also appeared in several small acting roles a a child. She is currently the leading vocalist for the band We Are The Fallen as of 2009.
Early life
Smithson began singing around the age of four. Before she started pursuing her singing career further, appeared in a series of child acting bits. Starting at age five, she appeared in commercials for Denny's sausage for three years. In 1990, she had a cameo in the movie Fools of Fortune as Young Marianne. She later joined the cast of Lés Miserables, starring in the role of Little Cosette, in 1992. At age 10, she released her first independent album, Carly's Christmas Album. Little else is known about it, other than that it was available for sale throughout the United Kingdom. In 1999, she moved to the United States with her father, shortly after which she dropped out of high school to continue her singing career.
Ultimate High
In 2001, Smithson joined with MCA records to release her second solo project, a pop record called Ultimate High. The album sold a disappointing 378 copies upon its debut, but sales shot up dramatically after her elimination on American Idol for a short period, appearing on the front page of Amazon's mp3 homepage, peaking in the Top 10 of their Top Selling Digital Albums. Otherwise, the album and its two singles, I'm Gonna Blow Your Mind and Beautiful You were generally a miss, reportedly because of the untimely merge of MCA with a parent company, as well as the unfortunate recent of preceding 9/11 attacks. She later met controversy with American Idol that nearly caused her to be disqualified because of this record deal.
Pre-American Idol
After her failed solo career as Carly Hennessy, Smithson took a break from her singing career. She worked in a local bar before meeting her husband, Todd Smithson. They married and owned a tattoo shop together called "Nothing Sacred", which they still run to date. Smithson herself reportedly has nine tattoos, including a sleeve on her right arm depicting a Japanese Geisha based on a painting she owns. She waited until season five of American Idol to audition, receiving unanimous acceptance by the judges, but running into another mishap when her visa failed to clear in time.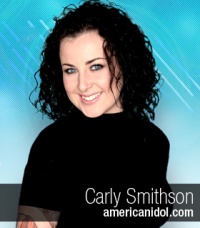 American Idol
Devastated by the outcome, Smithson waited again until season seven to re-audition, this time with the song I'm Every Woman, again receiving unanimous acceptance. This time, Smithson made it all the way to the Top 24 before her previous record deal caused yet another bump in the road. The controversy was later cleared and Smithson continued to be successful in her Idol career, appearing as one of forerunners throughout the competition until being voted off after her rendition of Andrew Lloyd Weber's "Superstar", finishing in the Top 6. Her elimination came as a shock to many, as Smithson was predicted to be one of the potential winners, causing many to speculate the show's voting process was erroneous or corrupt, possibly due to voting lines being jammed that night. This even prompted a press release from FOX, on which they denied to reveal voting tallies. Regardless, Smithson was eliminated.
Post-American Idol
On the American Idols LIVE! Tour 2008, Smithson performed "Bring Me To Life", "I Drove All Night'", and '"Crazy On You". After the end of the tour, Smithson appeared on a number of talk shows, conversing about he experience on Idol and promoting her forthcoming solo project. Her newest album was anticipated to go in a much more soulful, personal direction than her previous upbeat pop tunes from Ultimate High.She had already revealed two original songs, Let Me Fall and Lay With Me before scrapping her solo project.
We Are the Fallen: Early Years
On June 18, 2009, Smithson revealed she would be teaming up with Ben Moody as the lead vocalist for new gothic metal band, "The Fallen" (later changed to We Are the Fallen for copyright reasons). Her solo album was abandoned thereafter, despite high hopes from her lingering Idol fan base. On October 28 that same year, they were officially signed to Universal Republic. The band began touring right away, attempting to land as much publicity and anticipation for their upcoming new music as possible. Playing a sparse selection of covers (including two Evanescence songs, My Immortal and Going Under) and their first original song, "Bury Me Alive", the lyrics to which had already been written by Smithson prior to the formation of the band, they gained headway seemingly overnight. A free download of Bury Me Alive was posted on their official website, and the overwhelming response made it the perfect choice for the band's first single.
Tear The World Down
The next year after Smithson was officially signed was spent writing, producing, and recording new music. Their original plan was to release a few new songs every so often, available for download online. However, they soon realized that they were able to compose music together at an unanticipated fast rate. In just six weeks, the band wrote 15 songs together in total. Smithson herself was the primary lyricist, but did not contribute to any of the instrumental composition. The songs Bury Me Alive and St. John were written entirely by Smithson before joining We Are the Fallen. Other songs, such as Through Hell, Don't Leave Me Behind, and Samhain were written about parts of her life to which she applied hypothetical twists as well. The album was completed and released on May 11, 2010, even featuring David Hodges as the pianist and choral arranger.
Post-Tear The World Down
After the release of Tear The World Down, Universal consequently decided to drop We Are the Fallen from their record plan. The band did not break up afterwards, however, but instead made plans to release independent projects. Smithson announced that she was, "GONNA BE A MOMMY, Y'ALL!", on June 9, 2012 and gave birth to daughter Olivia Mabel Smithson on September 30th, 2012. Smithson went on tour with Cirque du Soleil in Viva Elvis for almost a year and a half before returning to her home in California to resume work with We Are The Fallen. She reportedly had been writing several songs while on tour, and plans to share and produce her new ideas with the rest of the band, in hopes of releasing another album, this time as an independent release, until another label picks them up.