Template:News
From The Evanescence Reference
July 7, 2018
During the band's encore at the Hollywood Casino Amphitheatre in St. Louis, MO, they and Lindsey Stirling did a mash-up of Karl Jenkins' Palladio, Ozzy Osbourne's No More Tears and Sia's Alive. Watch a video of the performance here.
July 6, 2018
June 8, 2018
June 4, 2018
Evanescence have confirmed that the Atlanta show on August 15th will be held at the State Bank Amphitheatre at Chastain Park. Presale begins June 20th at 10am EST and general sale begins June 22nd at 10am EST. Click here to get your tickets.
May 23, 2018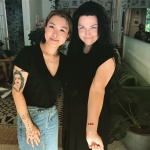 May 9, 2018
In an exclusive interview with fan site, Games of Evanescence, Lindsey Stirling confirmed that the music video for Hi-Lo should be released before the summer tour.
May 5, 2018
May 3, 2018