Archived News/pt
2009
Abril
April 18, 2009
"Um vídeo com performances de Maio de 1999 no Vino's Bar vazou na net com apresentação de uma música desconhecida
2008
October
October 8, 2008
Amy will appear on The Tonight Show with Jay Leno Monday, October 13th with Tim to perform her version of "Sally's Song."
August
August 8, 2008
Walt Disney Records will release "Nightmare Revisited," a collection of covers and new recordings inspired by the 1993 film "Tim Burton's The Nightmare Before Christmas," on September 30, 2008, on which Amy Lee is credited to release a cover of Sally's Song. View Amy's Post
June
June 18, 2008
Amy Lee was given the 2008 Songwriter Icon Award by the NMPA (National Music Publishers Association) at the annual NMPA meeting in New York.
2007
December
December 6, 2007
The Recording Academy has given a Grammy nomination to Evanescence for Best Hard Rock Performance for Sweet Sacrifice!
The Good Enough Single is set for a new release date of December 14th after two postponements
December 4, 2007
Check out Evanescence's exclusive Nissan Live Sets performance through Yahoo! Music! See the whole show here.
November
November 30, 2007

November 29, 2007
Cast your vote for Evanescence in Rockin'Town Best of 2007 by RockinTown.com! Evanescence are currently #1! The band is also #3 in Rockin' Hall of Fame, under Elvis Presley and Led Zeppelin! You can vote immediately by clicking here. The poll will close at 11:59 PM (US - Eastern) December 31, 2007!
November 25, 2007
Several members of Evanescence have come down with a severe stomach flu and are receiving medical attention. Because of this, tonight's show in Denver has been canceled with no plans to re-schedule. Please contact Ticketmaster for refund inquiries.
Don't miss a live performance by Evanescence for Nissan Live Sets starting on December 3, 2007! For more information, click here and check back!
November 9, 2007
Due to scheduling conflicts the Reno, NV show on 11/15/07 has been canceled.
October
October 23, 2007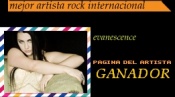 October 18, 2007
EVANESCENCE won the award for BEST INTERNATIONAL ROCK ARTIST at the MTV Latin America Music Awards.
Amy Lee performed live on Jay Leno's "The Tonight Show".
October 15, 2007
Amy Lee was the musical guest on ABC's "The View". She performed for the second time the shorter acoustic version of Good Enough. Amy also appeared on "The Sauce" of Fuse TV, where the new version was played for the first time ever.
September
September 27, 2007
EVANESCENCE will "co-host" L.A. LLOYD'S ROCK 30 COUNTDOWN syndicated radio show airing the weekend of October 5 & 6! Recorded at the San Antonio Family Values show in August, Loyd says this is possibly Rock 30's best show this year!
September 26, 2007
Amy Lee is traveling the talk show circuit. Tune in to see Amy Lee on October 15th on The View and October 18th on Leno. Check your local listings, gear up your Tivos and don't miss it!
September 25, 2007
Evanescence has been nominated for the ROCK OUT AWARD at the MTV Europe Music Awards ("EMA"), which will take place in Munich, Germany on November 1st.
ROCK OUT:

30 Seconds To Mars
Evanescence
Fall Out Boy
Linkin Park
My Chemical Romance
click here to start voting
September 13, 2007
Evanescence has been nominated for BEST INTERNATIONAL ROCK ARTIST at the MTV Latin America Music Awards ("Los Premios"), which will take place in Mexico City on October 18th.
MEJOR ARTISTA ROCK INTERNACIONAL:

30 Seconds To Mars
Evanescence
Maroon 5
My Chemical Romance
Panic! At the Disco
click here to start voting
September 10, 2007
The new video for "Good Enough" debuted during MTV's TRL at 3:30 p.m. ET/PT, with Amy Lee presenting the video, as it was announced on September 5 at Evanescence.com.
September 7, 2007
  • Discography Update: Thanks to Sound-asleep.net, the EvReference discography now has high quality scans of the Re-issued Bring Me To Life US Radio Single.
September 4, 2007
MTV will premiere the new video for "Good Enough" on TRL Monday September 10th and Amy Lee will be there to make the introduction! The video will also be featured as an "Unleashed" premiere on MTV2 the same day.
September 3, 2007
Evanescence has just announced a new winter tour throughout Mexico and the United States. Joining Evanescence will be Australian outfit the Sick Puppies and Julien-K to Support. Tickets for most shows will go on sale beginning September 8th and are available via Ticketmaster. Source
September 2, 2007
---
August
August 30, 2007
This year the public will pick the nominees and winners of the 2007 EMAs. Go to mtvema.com to vote for Evanescence to get nominated for the Rock Out, Band, Album, and Headliner categories.
The Evanescence Reference gets a makeover.
The Evanescence Reference is being translated into Español.
---
July
July 30, 2007
An unfinished version of the Good Enough Video leaked onto the internet, from which still images had popped up over the past weeks. The release date for the finished video/single is suspected for September 11th.
High Quality scans of the Good Enough Radio Single (thanks to sound-asleep.net)