Your Star/it
From The Evanescence Reference
| | |
| --- | --- |
| | |
Informazioni Generali
Scritta da: A. Lee e T. Balsamo
Questa è la canzone preferita di Terry Balsamo, e la canzone che Amy Lee trova più divertente da suonare in The Open Door. Il pianoforte è lo strumento principale in questa canzone, che mostra il sound tipico di The Open Door in tutta la sua complessità. Il brano contiene vari cori che lo rendono molto epico, soprattutto nel finale. Contiene un assolo di pianoforte di 41 secondi, che dopo il secondo ponte (All my fears [...] own way out) continua fino alla fine della canzone.
Descrizione di Amy della canzone: [1]
| | | |
| --- | --- | --- |
| | Un paio di anni fa, mi sono sentita tanto sola da avere il terrore di andare in tour. Eravamo appena arrivati a Lisbona, stavo nella mia stanza e mi sentivo disorientata, strana e stanca. Ero appena stata a casa dove di notte si potevano vedere le stelle. Ma quando guardai fuori dalla finestra di quell'hotel di Lisbona, e non riuscii a vedere niente perchè eravamo in una grande città. Questo è stato il colpo di grazia. Mi sentivo così depressa, che semplicemente iniziai a cantare questa canzone. | |

Durante il ponte, il coro nel sottofondo canta "Alma surdo, loucura, o­nde está seu alma? Loucura, todo sozinho" (portoghese con alcuni errori grammaticali) che vuole significare: "Animo sordo, pazzia, dove è la sua anima? Pazzia, completamente da sola" in Italiano. In portoghese corretto dovrebbe essere: "Alma surda, loucura, onde está sua alma? Loucura, toda sozinha".
Qualche volta può capitare che, durante una performance live, Amy sostitutiva a Lisbon il nome della città in cui gli la band si sta esibendo (es: "The mechanical lights of Atens...").
Versioni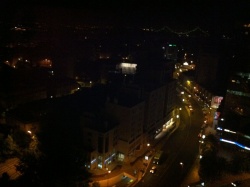 Versioni in Studio:
Your Star
Data di registrazione: Settembre 2005 - Marzo 2006
Stato: Pubblicata
Pubblicata in: The Open Door (traccia #11)
Durata: 4:43

Versioni Live:
Your Star [Live]
Periodo di esecuzione: 5 Gennaio 2006 - 8 Dicembre 2007; 4 e 8 novembre 2009; 21 novembre 2011 - presente
Stato: Non pubblicata[3]
Esempio: Live allo Zepp a Tokyo
Testo

I can't see your star
I can't see your star
Though I patiently waited, bedside,
For the death of today
I can't see your star
The mechanical lights of Lisbon
Frightened it away

And I'm alone now
Me and all I stood for
We're wandering now
All in parts in pieces, swim lonely
Find your own way out

I can't see your star
I can't see your star
How can the darkness feel so wrong?

And I'm alone now
Me and all I stood for
We're wandering now
All in parts in pieces, swim lonely
Find your own way out

So far away
It's growing colder without your love
Why can't you feel me calling your name?
Can't break the silence
It's breaking me

[Alma surda, loucura] all my fears [onde está sua alma?]
[Loucura, toda sozinha] turn to rage

And I'm alone now
Me and all I stood for
We're wandering now
All in parts and pieces, swim lonely
Find your own way out now

And nothing worth fighting for
We're wandering now
All in parts and pieces, swim lonely
Find your own way out


Traduzione

Non riesco a vedere la tua stella
Non riesco a vedere la tua stella
Benché abbia atteso pazientemente, al capezzale
Per la fine di questo giorno
Non riesco a vedere la tua stella
Le luci artificiali di Lisbona
L'hanno intimorita

E sono sola ora
Io e tutto quello per cui mi sono battuta
Stiamo vagando, adesso
Ridotti a pezzi, scivoliamo via
Trova la tua strada

Non riesco a vedere la tua stella
Non riesco a vedere la tua stella
Come può, l'oscurità, sembrare così sbagliata?

E sono sola ora
Io e tutto quello per cui mi sono battuta
Stiamo vagando, adesso
Ridotti a pezzi, scivoliamo via
Trova la tua strada

Così lontano
Fa sempre più freddo senza il tuo amore
Perché non mi senti chiamare il tuo nome?
Non riesco a spezzare il silenzio
È lui che sta spezzando me

[Animo sordo, pazzia] e tutte le mie paure [dove è la sua anima?]
[Pazzia, completamente da sola] si trasformano in rabbia

E sono sola ora
Io e tutto quello per cui mi sono battuta
Stiamo vagando, adesso
Ridotti a pezzi, scivoliamo via
Trova la tua strada

Non c'è nulla per cui valga la pena combattere
Stiamo vagando, adesso
Ridotti a pezzi, scivoliamo via
Trova la tua strada

Spartiti e Accordi per chitarra
Note e Fonti
Albums

EP
Studio
Demo
Live
Raccolte
Remix
Cofanetti

Singoli
Singoli promozionali
Evanescence stuff