Troy McLawhorn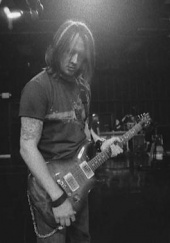 Live guitarist for Evanescence durning 2007 tour, who replaced John LeCompt on May 17th, 2007. After leaving Dark New Day, he is currently the lead guitarist and background vocalist of Seether, who had joined as live guitarist. He was previously in a band called Doubledrive.
Touring Guitar for Evanescence
Amy Lee stated on Evthreads.com that Troy and Dark New Day bandmate Will Hunt are not leaving Dark New Day and that Evanescence are "just borrowing Will and Troy for a while". Other Dark New Day guitarist, Clint Lowery (who will also be touring with Korn as their backup guitarist), stated that Troy and Will are only going to be touring with Evanescence until at least September 2007,[1] but Troy continued playing with the band until the end of the tour in December 2007. He is referred as a band member by Evanescence's official bio [2].
Amy Lee stated:[3]
| | | |
| --- | --- | --- |
| | We're not really worried about it at this point because we're about to stop anyway. And they're still in Dark New Day and working on a lot of songs and have actually been in the studio in between tours with us, working on that album. So, since we're finishing December 8, it doesn't really clash with anything we're doing for them to go do their thing. So they're going to do the Dark New Day thing while we're off anyway, and we don't really have a time frame for when we're starting up again. We're just going to have to see where we're all at then. But I love playing with them, I would love to try writing with them, and I just admire them both as musicians. I like Dark New Day and I think it makes a lot of sense with our music, so we'll just see how it goes. I would love to work with them again, I really would. | |

Amy Lee stated on EvThreads that Troy would not be joining them on tour, he is now an official writing member of Seether.
"Hey guys, Just one thing to clarify from this article. Troy won't be joining us on tour. He is a full-on writing member of Seether now and is getting a chance to really bloom there. They are currently in the studio working on a new album as well. We will miss him on the road, but I'm very happy for him. He's a very kind and talented man who deserves to shine creatively. Terry will be playing all of the guitar on our album, and when we get closer to tour we will figure out who will be the other live guitarist".
Equipment
Troy uses PRS Guitars and Hughes & Kettner guitar amps.
Discography
doubleDrive
1000 Yard Stare (1999)
Blue in the Face (2003)
Dark New Day
Twelve Year Silence (June 14, 2005)
Black Porch (Acoustic Sessions) (EP) (September 5, 2006)
Untitled (March 2008)
Notes and References
Albums

EPs
Studio
Demo
Live
Compilation

Singles
Promotional singles
Evanescence stuff