The Ultimate Collection/it
Cofanetto contenente i vinili di tutti gli album pubblicati dagli Evanescence fino al 2016, compreso Origin (prima sua apparizione ufficiale), più un book di 52 pagine con immagini inedite. Al suo interno è presente anche l'inedito album Lost Whispers, contenente tutte le b-side dei precedenti album più due inediti: una nuova versione di Even in Death e la traccia Lost Whispers[1][2][3][4].
In realtà è stato molto figo riconnettersi alla storia della band, perché è passato un bel po' di tempo da allora. Ho 34 anni, e penso che abbiamo dato vita alla musica degli Evanescence quando avevo, non saprei, quando ero una giovane adolescente. Quindi abbiamo alle spalle tanti anni di storia, e una grande quantità di musica.

E' figo, mi fa stare bene il poter riascoltare tutta la nostra opera e pensare "Wow, questo è figo. Ho realizzato qualcosa nella mia vita". E ci sono cose, specialmente tra quelle più vecchie, che non farei mai ora. Tipo oh, mio dio, stavamo cercando di suonare come alcune cose pazze orchestrali in stile Metallica, non saprei.

Ma ci sono stati momenti in cui mi sono messa a piangere; devo essere onesta. In questo periodo sto riascoltando quella roba e mi sta commuovendo. Ma come fan, lo amo.[5]
Pubblicazione e promozione
Diversi rumor incominciarono a trapelare già nel mese di settembre (2016), quando venne resa disponibile in un sito la preordinazione di questo boxset, ancora non ufficialmente comunicata. L'annunzio venne reso ufficiale il 13 settembre dalla pagina ufficiale degli Evanescence:
Le dicerie sono vere! Siamo molto eccitati nell'annunciarvi che quest'autunno pubblicheremo un cofanetto di vinili veramente speciale che include tutti i nostri album + Origin + una registrazione nuova di zecca di Even in Death e tanto altro!

State connessi per avere informazioni sulla preordinazione![8]
La pubblicazione di questo cofanetto è stata travagliata. Nonostante venne annunciata inizialmente per l'autunno del 2016, la pubblicazione fu più volte posticipata[9][7][10][11] per essere infine definitivamente spostata il 18 febbraio 2017. Per scusarsi del rinvio e dei disagi creati, Amy si offrì di firmare un poster (riprendente il tema grafico della collection) che sarebbe poi stato inviato a casa di chi aveva già preordinato il prodotto[6][7]. La promozione, di dimensioni modeste, si mosse principalmente nei canali ufficiali della band. Fu Amy stessa ad ammettere che il cofanetto fosse indirizzato ai fan più accaniti ("HARDCORE FANS ONLY")[3]. Venne pubblicato un video trailer che mostrava il contenuto della collection animato in computer grafica[10]. In quel periodo, durante il tour invernale in Nord America, venne eseguita dal vivo la nuova versione di Even In death al piano[12].
Contenuti
Origin

Per approfondire, vedi la pagina Origin

Lato A

Lato B

Evanescence

Per approfondire, vedi la pagina Evanescence

Lato A

Lato B

Fallen

Per approfondire, vedi la pagina Fallen

Lato A

Lato B

Lost Whispers

Per approfondire, vedi la pagina Lost Whispers

Lato A

Lato B

The Open Door

Per approfondire, vedi la pagina The Open Door

Primo vinile

Lato A

Lato B

Secondo vinile

Lato C

Lato D

Casebound book

Per approfondire, vedi la pagina The Ultimate Collection Book

Foto inedite
Scansioni dei testi delle canzoni scritti a mano
Illustrazioni
Artwork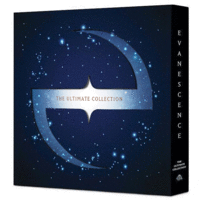 Il packaging è la grafica del cofanetto sono stato concepiti da Andrew Phamda e progettati da Kassandra Mondoe, Amy Lee e Carrie Smith, che ha avuto anche il ruolo di supervisione e direzione.
Il tema grafico della collection è quello del cielo/spazio, delle stelle e costellazioni. La slipcase presenta dettagli ed elementi che, in linea al tema grafico scelto, si illuminano al buio. Il lato frontale è caratterizzato dal grande foro a forma del classico logo 'e' della band studiato per rendere mutevole e personalizzabile l'aspetto del cofanetto a seconda della disposizione dei suoi contenuti (cinque album e un book): Lost Whispers e il book (per approfondire vedi The Ultimate Collection Book) sono stati creati in concomitanza con il boxset, e più degli altri contenuti mostrano una certa coerenza con il progetto grafico del cofanetto (colori e coincidenza con il foro a forma di 'e' sul fronte). Degli altri contenuti, l'unico ad essere stato modificato in maniera rilevante per potersi prestare meglio al gioco del foro centrale del cofanetto è Origin, il cui logo è stato spostato al centro della copertina. Sono invece totalmente inediti i contenuti interni (inserto e disco) di tutti gli album che, a parte Fallen (il disco è l'unica cosa che lo distingue dalla precedente pubblicazione in vinile) non erano mai stati pubblicati sotto forma di vinile.
Sul retro appare una sorta di cerchio dello zodiaco, dove al posto delle costellazioni dei segno zodiacali stanno i simboli tratti dal progetto grafico di The Open Door e non solo. Dal simbolo più alto in senso orario: E, uccello, formica, chiave, falena, cannocchiale, disco, ombrello, grifone, agnello, ciondolo a forma di cuore, gabbia per uccelli. Sullo sfondo brillano delle stelle disposte a formare il classico logo 'e' della band. Sul retro, al momento dell'acquisto, è possibile trovare un ulteriore inserto rimovibile che riassume il contenuto del cofanetto. Sul dorso della confezione, completamente nero, appare la scritta EVANESCENCE the ultimate collection e il logo della casa discografica in bianco.
Crediti
Compilation producer: Mark Copeland
Mastering: George Horn and Anne-Marie Suenram at Fantasy Studios
Masering Supervision: Chris Clough
Editorial: Ryan Jebavy
Project assistance: Maureen Bacon, Jennier Peters, Brian Shuman, Sig Sigworth, Willi Wisely
Management: Jordan Berliant, Jodi Emond, Corey Crossfield & Mark Gorlick for Revelation Management Group
Art director: Carrie Smith
Package design: Kassandra Mondoe, Carrie Smith and Amy Lee

Packaging Concept: Andrew Pham
Photography: Chapman Baehler (pp. 39-44, 46-48), Amy Bennett (pp. 2-left, 5) , Amy V. Cooper (pp. 32-33, 35-left), SGranitz/WireImage/Getty Images (p. 19-top, right), Rocky Grey (p. 1), Paul Harries (pp. 16-17, 36-37), Peter Klein (35-right), Karl Larsen (pp. 22-23, 25), Amy Lee (p. 2-right, 13-bottom), Ben Moody Sr (p. 4-top), Frank Ockenfels (pp. 20-21, 24, 26-32, 34), David Steward (pp. 50-52), Frank Veronsky (6, 9-11, 14-15, 17). The gramophone statuette and logos are registered trademarks of The Recording Academy® and are used under license.

Video stills: "Going Under" (p. 12), "Bring Me to Life" (p. 13-top)
All sketches and handwrittern lyrics: Amy Lee
Note
Albums

EP
Studio
Demo
Live
Raccolte
Remix
Cofanetti

Singoli
Singoli promozionali
Evanescence stuff