Template:News
November 25, 2007
Don't miss a live performance by Evanescence for Nissan Live Sets starting on December 3, 2007! For more information, click here and check back!
November 9, 2007
Due to scheduling conflicts the Reno, NV show on 11/15/07 has been canceled.
October 23, 2007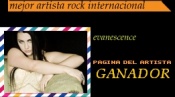 October 18, 2007
EVANESCENCE won the award for BEST INTERNATIONAL ROCK ARTIST at the MTV Latin America Music Awards.
Amy Lee performed live on Jay Leno's "The Tonight Show".
October 15, 2007
Amy Lee was the musical guest on ABC's "The View". She performed for the second time the shorter acoustic version of Good Enough. Amy also appeared on "The Sauce" of Fuse TV, where the new version was played for the first time ever.
September 27, 2007
EVANESCENCE will "co-host" L.A. LLOYD'S ROCK 30 COUNTDOWN syndicated radio show airing the weekend of October 5 & 6! Recorded at the San Antonio Family Values show in August, Loyd says this is possibly Rock 30's best show this year!
September 26, 2007
Amy Lee is traveling the talk show circuit. Tune in to see Amy Lee on October 15th on The View and October 18th on Leno. Check your local listings, gear up your Tivos and don't miss it!