Tarja Turunen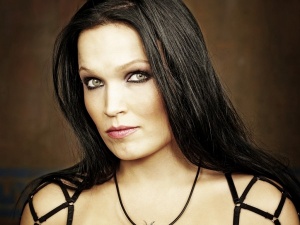 Tarja Soile Susanna Turunen-Cabuli (born 17 August 1977), known professionally as Tarja Turunen or simply Tarja, is a Finnish heavy metal singer-songwriter.
She is a professional classical lied singer, and the former lead vocalist of the Finnish symphonic metal band Nightwish, which she founded with Tuomas Holopainen and Emppu Vuorinen in 1996. Their combination of hard and fast guitar riffs with Turunen's dramatic, "operatic" lead vocals quickly achieved critical and commercial popularity. Their symphonic metal style, soon dubbed "opera metal", inspired many other metal bands and performers.
Turunen was dismissed from the band on October 21, 2005 (just after the performance of the band's End of an Era concert) for personal reasons. She started her solo career in 2006 with the release of a Christmas album called Henkäys ikuisuudesta. In 2007, Turunen released My Winter Storm, an album featuring various styles including symphonic metal, and started the Storm World Tour. Turunen released her third album, What Lies Beneath, in 2010. Her first live DVD Act I was filmed during this tour on 30 and 31 March 2012 in Rosario, Argentina. Act I was released in August 2012. Turunen started the Colours in the Dark World Tour in October 2013 to promote her new album Colours in the Dark. Her second live DVD was filmed during the events of Beauty and the Beat and was released in May.
In September 2015, Tarja Turunen released her first classical studio album, Ave Maria – En Plein Air. Her latest album was released in August 2016 The Shadow Self with a prequel EP The Brightest Void released on June 3.
This is what Tarja had to say about Evanescence:
Some of the people who probably discovered Nightwish a couple of months ago, compare you a lot to Evanescence, which has pissed off a lot of your fans. They even compared the cover artwork of "Once" to that of an Evanescence single…

It was not meant to be like that, it did not have anything to do with Evanescence's cover. We just realized that afterwards, you know. Hey if people think that this is similar, so let them think. It has nothing to do with that really. I can also mention that when Tuomas heard Evanescence's music for the first time, he was completely pissed off. He was pissed off by the fact that it's a totally different style (that of Evanescence) and because they had a woman singing and because it had a little bit of metal inside it…but it's a totally different style and kind of music. People tend to compare our music to Evanescence and it's very funny because there are not that many elements there that we have in common. [laughs]

I've even heard journalists even say that you've copied Evanescence and I was like "what the hell are you guys talking about?"…

Yeah, sure, sure…we've been around six years more than they have! [laughs] That was very funny of them to say.

Tarja confirmed that she will be Evanescence's special guest at their Slovakia show on September 7, 2019.
Discography
With Nightwish
Angels Fall First (1997)
Oceanborn (1998)
Wishmaster (2000)
Century Child (2002)
Once (2004)
Solo
Henkäys ikuisuudesta (2006)
My Winter Storm (2007)
What Lies Beneath (2010)
Act I: Live in Rosario (2012)
Live in Luna Park (2012)
Colours in the Dark (2013)
Ave Maria – En Plein Air (2015)
The Shadow Self (2016)
From Spirits and Ghosts (2017)
Act II (2018)
In the Raw (2019)
External Links