Synthesis
From The Evanescence Reference
Synthesis
Studio album by Evanescence
Released
November 8, 2017 (Japan)
November 10, 2017 (US)
Recorded
May - August 2017; Dark Horse Recording Studio, Nashville, TN; Ocean Way Recording Studio, Nashville, TN; Spaceway Productions, Fort Worth, TX
Length
1:02:18
Label
Evanescence under exclusive license to BMG Rights Management (US) LLC;
RCA Records
Sony
Producer
Will "Science" Hunt, Amy Lee
Evanescence chronology

Synthesis is Evanescence's fourth studio album that was released on November 10, 2017. The album contains reworked music from their previous three albums and two new songs that all focuses primarily on orchestra and electronica. This is the first album to be released independently since separating from Wind-Up Records in 2014.
Amy first hinted about remaking Evanescence music "in a different way" on a Facebook Q&A on February 29, 2016.[1] No further information was revealed until Amy was interviewed on AOL's BUILD series on September 30, 2016;
| | | |
| --- | --- | --- |
| | We have some new little plan in store, but I don't want to give it away yet. But there is some new Evanescence stuff that we're starting at, but it's not exactly the most traditional thing. It's not just 'Okay we're going to make a new album right now', not that that's not coming, but first there's something else that's a little bit special and different and it's going to take you down a different path that we want to try.[2] | |

On February 13, 2017, Evanescence's publicists at Mercenary Publicity released a statement saying that Amy is in the studio working on new Evanescence music that's expected to be released later in 2017.[3] Although Amy didn't confirm whether this was true or not at the time. Then finally on May 10, 2017, Amy posted a video to Evanescence's Facebook account revealing that the "special project" the band are working on is Synthesis.
The album had two promo singles and two commercial singles. Bring Me to Life (Synthesis) was released on August 18, 2017, Imperfection on September 15, 2017, Lacrymosa (Synthesis) on October 27, 2017 (although this was not officially announced), and Hi-Lo featuring Lindsey Stirling on June 8, 2018. Imperfection and Hi-Lo had official music videos made by Paul R. Brown.
The worldwide tour for the album included the band members, a full orchestra, producer Will "Science" Hunt on percussion and programming, and Susie Seiter as the orchestra conductor. It spanned from October 14, 2017 until September 8, 2018. The Summer 2018 tour included Lindsey Stirling co-headling with Evanescence, and they took it in turns to open and close the shows. A live album in support of the tour, Synthesis Live, was released on October 12, 2018.
Conception
Amy Lee announced Synthesis by uploading a video to Evanescence's official Facebook profile on May 10, 2017 titled: "Album announcement: SYNTHESIS" [4].
This is the full statement from the video:
Hey everybody, I want to take this moment to officially announce and briefly explain the new Evanescence project; Synthesis. We're calling it that because it is the synthesis, the combination, the contrast, the synergy between the organic and the synthetic, and also the past and the present. This album is about orchestra and electronica. We're taking our music, stripping out the big distorted guitars, stripping out the rock drums and replacing it with full orchestration and a completely synthetic world of beats and sounds.

We've gone through our entire catalogue of music and picked out the songs that are made to be heard in this way. And we're sewing them together from the ground up, this isn't a remix, we're not pulling things out and putting them out. We're starting from the ground up; different tempos with different parts, with intros and outros and segways and new pieces. And putting this all together like one big piece of music, like one big classical piece or sort of like a soundtrack, actually, in a lot of ways, it sounds a lot like the soundtrack of my life.

In addition to all the Evanescence songs that you already know, there are also going to be two completely new, original compositions as well. We're collaborating on this with the legendary David Campbell who arranged the strings for all three of our albums. This time he's come to the table with way more full orchestra meaning; woodwinds and brass and strings and harp and just the whole thing, it's really awesome!

Okay, the last part of this that I want to share with you now is that as we've been thinking about how to execute this in the studio and create this as an album, we've also been thinking about how to attack it live because we're also going to be touring with a full orchestra this fall.

So, get ready to put on your fancy clothes and experience Evanescence in a whole new way! Both Synthesis the album and Synthesis the tour will be happening this fall. Stay tuned for dates.

In an interview with Billboard, Amy called Synthesis "a beautiful example of me getting to do whatever I want and really believing in it and having a team behind me that really believes in me."[5] She further explained that wanting to revamp her existing songs "wasn't so much a departure as like a roots thing. It's going to part of the root of our music and our core sound in a way that is accentuating a different side of it." Much of Evanescence's music already contained a "classical-infused cinematic quality" and electronic programming, but "a lot of that stuff gets a little bit buried. It becomes part of the atmosphere, as opposed to being able to take that drama and totally pump it up like we have here."[5]
The concept of the album, and these songs, basically explores the themes throughout Evanescence's whole history. It's about processing the pain, confessing the pain and working through it. That is the essence of Evanescence.

—Amy Lee in a Kerrang! interview[6]
Recording Process & In the Studio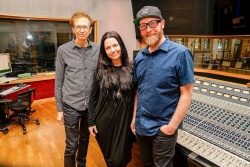 On May 23, 2017, pictures surfaced on Instagram of Amy Lee recording piano at the Dark Horse Recording Studio in Nashville, Tennessee. The photos have since been deleted, but were originally uploded by cinematographer, Jeff Molyneaux, who was recording behind-the-scenes footage at the time.
On May 27, the band posted a video to their Instagram account in which the orchestra is recording Your Star.[7]
The orchestra was recorded later the same month at Ocean Way Recording Studios, also located in Nashville.[8]
Recording took a month-long break as Evanescence began their European tour. Then in August 2017, the band flew to Will B. Hunt's studio in Fort Worth, Texas, to record their parts and to finish off the album.[9]
Inside Synthesis
Inside Synthesis is a video series featuring behind the scenes interviews and music of the recording process of Synthesis.
Episode 1: Introduction
My Immortal (Synthesis)
Lacrymosa (Synthesis)
Episode 2: Imperfection
Imperfection
Bring Me to Life (Synthesis)
Episode 3: Harp
Amy finds out her harp teacher, Kirsten Copely, will make an appearance on Synthesis to play harp.
Episode 4: Lindsey Stirling
Amy speaks about choosing Lindsey as a guest Violinist in the song Hi-Lo. Lindsey also shares her thoughts.
Episode 5: Final Episode
Amy speaks about the Steinway & Sons piano that was made for Synthesis.
Promotion
Singles
Bring Me to Life (Synthesis) was released as an instant grab, or promo single, on August 8, 2017 when tickets for the Fall 2017 North American tour went live. Fans were able to download the single after purchasing their tickets. Imperfection was released as the first commercial single on September 15, 2017 with a live "listening party" on Evanescence's official Facebook page two hours prior to its release. Lacrymosa (Synthesis) was released as the second promo single on October 27, 2017. Despite the lack of "special treatment" of this particular track release, fans refer to this song as a single. Hi-Lo was released as the second commercial single on June 8, 2018 prior to the co-headlining tour with Lindsey Stirling.
Music Videos
Imperfection is the first music video that was released for the era. It was filmed in Los Angeles, California on September 15, 2017 and was directed by Paul Brown. Some behind the scenes teaser videos and photos were posted to Instagram by the band and Tim McCord's wife, Dani McCord. It premiered on NME on October 19, 2017, before being available on Evanescence's VEVO channel.[10] An exclusive behind the scenes video was later published by Revolver.[11]
On March 30, 2018, a poster at Evanescence's show at the Royal Festival Hall in London, UK stated that both performances at the venue will be recorded "for use in a music video".[12] Amy confirmed that Hi-Lo is the next music video in a live Facebook Q&A with Lindsey Stirling. Lindsey filmed her parts for the video seperately and it was once again directed by Paul R. Brown.[13] The music video was released on YouTube on June 8, 2018.[14]
Tour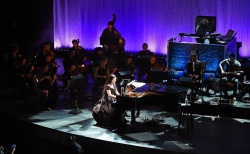 Synthesis Live is what Evanescence called their tour of Synthesis. They toured worldwide with a full orchestra from October 14, 2017 until September 8, 2018. They played the album in full, but not in order, and the orchestra selections and encores changed on each leg of the tour.
On March 5, 2018, Lindsey Stirling uploaded a short teaser video labelled "Dreams coming true, Summer 2018", and the video featured Lindsey jokingly talking about being a "casual" Evanescence fan, with the camera panning out to band merch covering the walls as well as Lindsey wearing an Evanescence t-shirt and gloves. Her phone then rings with Bring Me to Life as her ringtone with text from Amy Lee asking "What are you doing this summer?", the screen then cuts to the Evanescence logo with the words "Summer 2018".[15] The next day, Evanescence confirmed that they will be co-headlining a tour with Lindsey in the United States and Canada in Summer 2018 from July 6th to September 8th. Pre-sale tickets went live on March 7th, and general sale began on March 9th.[16] Both artists took it in turns headlining the shows.
Evanescence's performances of Hi-Lo during the Summer 2018 tour included Lindsey playing her violin solo live. When Lindsey played her song, Shatter Me, Amy Lee would sing the vocals. During the first half of the co-headlining tour, when Lindsey headlined, Amy and Lindsey would perform a cover of Young and Beautiful by Lana Del Rey to finish off the night. And for the rest of the tour, when Evanescence headlined, the band and Lindsey would perform a medley of Palladio, No More Tears by Ozzy Osbvourne and Alive by Sia.
The worldwide Synthesis Live tour officially concluded on September 8, 2018.
Synthesis Live DVD
During Evanescence's concert in Connecticut on November 3, 2017, the VIP attendees were told that the show was being recorded for a live DVD. The two opening songs of the show, Never Go Back and Lacrymosa, were streamed live on Evanescence's Facebook page. The photographer for the Synthesis shoot, Paul Brown, posted behind the scenes pictures on Instagram working on the recording of the show.
An interview with Amy Lee was published on November 10, 2017 by French radio, La Grosse Radio, to which she confirmed that there will be a Synthesis Live DVD. It was officially announced on August 8, 2018 with a release date of October 12, 2018. The DVD will be available in multiple formats; DVD, DVD/CD, Blu-ray, Blu-ray/CD and Digital.
Track List
Pulled from New Zealand iTunes:[17]
No.
Title
Writer(s)
Originally From
Length
1.
"Overture"  
A. Lee
 
0:57
2.
"Never Go Back"  
A. Lee, T. Balsamo, T. McCord, W. Hunt
Evanescence
4:50
3.
"Hi-Lo" (feat. Lindsey Stirling)
A. Lee, W. B. Hunt
 
5:07
4.
"My Heart Is Broken"  
A. Lee, T. Balsamo, T. McCord, Z. Williams
Evanescence
4:34
5.
"Lacrymosa"  
A. Lee, T. Balsamo
The Open Door
3:42
6.
"End of the Dream"  
A. Lee, T. Balsamo, T. McCord, W. Hunt, W. B. Hunt
Evanescence
4:54
7.
"Bring Me to Life"  
A. Lee, B. Moody, D. Hodges
Fallen
4:18
8.
"Unraveling"

(Interlude)

A. Lee
 
1:40
9.
"Imaginary"  
A. Lee, B. Moody, D. Hodges
Fallen
4:03
10.
"Secret Door"  
A. Lee, W. B. Hunt
Evanescence
3:48
11.
"Lithium"  
A. Lee
The Open Door
4:05
12.
"Lost In Paradise"  
A. Lee
Evanescence
4:43
13.
"Your Star"  
A. Lee, T. Balsamo
The Open Door
4:38
14.
"My Immortal"  
A. Lee, B. Moody, D. Hodges
Fallen
4:25
15.
"The In-Between"

(Piano Solo)

A. Lee
 
2:11
16.
"Imperfection"

(Explicit Track)

A. Lee, W. B. Hunt, T McCord, J. Majura, T. McLawhorn, W. Hunt
 
4:22

Total length:

62:18
Orchestra Scores
Album Credits
Credits taken from the liner notes of the album booklet.
Lineup

Production team

Lindsey Stirling - Violin (track #3)
David Campbell - Orchestral arrangements, conductor
Alan Umstead - Orchestra contractor, concertmaster
Nashville Music Scoring Orchestra - Orchestra
Kirsten Copely - Harp
Nick Spezia - Orchestral engineer
Jasper LeMaster - Assistant orchestral engineer
Ethan Mates - Additional engineer (track #3)
Will B. Hunt - Engineer
Reese Murphy - Additional engineer
Robbie May - Assistant engineer
Gary Hedden - Additional audio editing

Emily Lazar - Mastering
Chris Allgood - Assistant mastering
Damian Taylor - Mixing
Jordan Berliant - Management
Jody Emond - Management
Mark Corlick - Management
Corey Crossfield - Management
P.R. Brown - Album art, design and photography
Beth Wilson - Hair and makeup
Marjan Malakpour - Wardrobe
Album Reception
Synthesis received generally positive reviews from music critics. At Metacritic, which assigns a normalised rating out of 100 to reviews from mainstream critics, the album has an average score of 69 based on 4 reviews, indicating "generally favorable reviews".[18]
Loudwire described Amy's performance on the record as "outstanding" and that "her powerful pipes [are] never overshadowed by the orchestra". They also said the production on the album is "excellent" and "it's grandiose and bombastic in parts, quiet and subdued in others, and working with so many instruments when recording and mixing an album is tricky".[19]
Rolling Stone gave it 3.5 out of 5 stars and gave a brief review saying that it's "an act of artistic justice" and that it "amplifies the real Amy Lee, the way she was always meant to be heard".[20]
Metal Hammer gave it 4 out of 5 stars and said that since they only have three studio albums, going back and revisiting their best-loved songs is an "ambitious and unexpected move". For the song Bring Me to Life, they said that "stripping away all the rock elements" and "barely there ambient electronics" gave it a "completely different atmosphere" and that the concept of the album is "like a window into an alternate-universe Evanescence".[21]
Chart Performance
Buy/Stream Synthesis
References
Albums

EPs
Studio
Demo
Live
Compilation

Singles
Promotional singles
Evanescence stuff