Sweet Sacrifice
General information
Written by: A. Lee and T. Balsamo
Described as a song about "a post-relationship catharsis that head-dives from an otherworldly intro into a hard-driving thrash of hard rock guitars and soaring rock vocals" by Evanescence.com.[1] In an interview with EvanescenceVille, Amy was asked: "Which was the song on The Open Door that gave more trouble to you? Which was the song that needed more adjustments to obtain 'the final cut'?"
She replied:
| | | |
| --- | --- | --- |
| | Sweet Sacrifice took the longest to write. Terry and I began tracking it at the beginning of 2005, got stuck on it and sort of abandoned it, half-baked, for months. Then in September we pulled it out and finally had a breakthrough with it and it became one of our favorite songs on the album. Usually when I get stuck on a song like that it dies. If I can't get the idea out when its fresh and urgent, the feeling just goes away- but Sweet Sacrifice came back to life.[2] | |

Additionally, Amy made known to the fans through EvThreads.com that John LeCompt didn't take part in the production of the song and he should not be given credit:
| | | |
| --- | --- | --- |
| | You all know that Terry suffered a stroke right after tracking the guitars for The Open Door, and how much strength he's had to have to overcome the effects its had on his performance. This is part of the reason the nomination was so touching to us. This award is for those who performed on the track, and I want to give credit where credit is due. Terry composed and performed ALL of the guitars on this song, Will played bass, Rocky played drums, and I sang vocals. Wind-up records made an error when they listed the performers on the album back in 2006, and now that error is being taken advantage of. You are the fans, you deserve to know who you're listening to, and Terry deserves full recognition for his performance.[3] | |

Amy's description of the song:
| | | |
| --- | --- | --- |
| | It's the one song on The Open Door that's about the same abusive relationship which was the source of all the songs on Fallen. It was appropriate to put this song at the beginning, but it comes from a much stronger standpoint than Fallen. It's not saying, "I'm trapped in fear and somebody save me." It's saying, "Fear is only in our minds ... I'm not afraid anymore."[4] | |

"Sweet Sacrifice" was officially chosen as the third single from The Open Door after requests from the band and fan reactions prompted the label to rethink ideas of releasing "All That I'm Living For" as the single.[5] The song was nominated for the Best Hard Rock Performance Grammy Award of 2008, but lost to the Foo Fighters' "The Pretender".[6] While talking to an Italian magazine in 2006, Amy explained the meaning of the song; she said that she is the "sweet sacrifice" in the song. She further stated that the song is about the time when Ben was still in the band, and that she hopes a similar situation won't happen again.[7]
"Sweet Sacrifice" was played regularly during the band's The Open Door Tour (2006–07).[8][9][10] It was played live again for the first time in five years on March 28, 2012, during the band's Evanescence Tour.[11]
Versions
Studio versions:
Sweet Sacrifice
Recording date: September 2005–March 2006
Status: Released
Released on:
The Open Door (track #1) - the third single off the album
Sweet Sacrifice [Radio mix]

Live versions:
Sweet Sacrifice [2006-2007 live]
Performing period: October 5, 2006–December 8, 2007
Example: KROQ Almost Acoustic Christmas (December 10, 2006)
Sweet Sacrifice [2012 live]
Performing Period: March 28–March 31; August 6, 2012
Example: Sydney Entertainment Centre, Sydney, Australia (March 29)
Lyrics
It's true, we're all a little insane
But it's so clear
Now that I'm unchained

Fear is only in our minds
Taking over all the time
Fear is only in our minds
but it's taking over all the time

You poor sweet innocent thing
Dry your eyes and testify
You know you live to break me - don't deny
Sweet sacrifice

One day I'm gonna forget your name
And one sweet day,
You're gonna drown in my lost pain

Fear is only in our minds
Taking over all the time
Fear is only in our minds
But it's taking over all the time

You poor sweet innocent thing
Dry your eyes and testify
And oh, you love to hate me
Don't you, honey?
I'm your sacrifice

I dream in darkness
I sleep to die
Erase the silence
Erase my life

Do you wonder [Our burning ashes]
Why you hate? [Blacken the day]
Are you still so weak [A world of nothingness]
To survive your mistakes? [Blow me away]

You poor sweet innocent thing
Dry your eyes and testify
You know you live to break me - don't deny
Sweet sacrifice

Video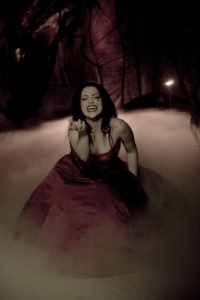 The video for "Sweet Sacrifice" was filmed on March 9 and March 10, 2007 and was directed by Paul Brown. For each day of production, one lucky EvClub member was given the chance to visit the set and take pictures while they watched the video being made (see Contest Details). CNN broadcast a segment featuring some behind-the-scenes footage of the video on March 16, 2007.
"It's mostly live performance," singer Amy Lee said recently on the set of their "Sweet Sacrifice" video. "It's not so much fluff and flying and tricks and wolves and stuff. It's more really just about the song, and that is unique for us. We usually do crazy stuff." The video does have a "cool twist," which Lee refused to reveal, but it will mainly feature the band performing on a set inspired by 2000's psychotherapist thriller "The Cell." "Like we're in the walls of our minds, sort of," Lee said.

Paul Brown, who has directed videos for Audioslave and Matisyahu, helmed the project, which will feature scenes of the live footage projected onto a wall. "It's gonna be sort of like a video within the video," Lee said. "Since the song is our heaviest single, we really wanted to focus on mostly performance but still have something about it that's really unique. And I think [Paul] really hit the nail on the head."[12]
The video was officially released at launch.yahoo.com on April 5, however iTunes North America had accidentally made it briefly available for purchase the day before.
Commercial release
Main article: Sweet Sacrifice Single
The physical CD single for "Sweet Sacrifice" was commercially released in Germany on May 25, 2007.
Tracks released with the single include:
Chart performance
"Sweet Sacrifice" only charted in three countries: Turkey, Germany, and the United States. In Turkey, the song peaked at number 11. In Germany, it peaked at number 75, and stayed on the chart for four weeks. On the Mainstream Rock Songs chart in the United States, "Sweet Sacrifice" peaked at number 24, and stayed on the chart for 15 weeks. On the song's last week on this chart, it was at number 38.
Chart (2007)

Peak
position

Turkey (Türkiye Top 20)[13]
11
Germany (Media Control AG)[14]
75
US Mainstream Rock Songs (Billboard)[15]
24
Guitar tabs & sheet music
not available
References
Albums

EPs
Studio
Demo
Live
Compilation

Singles
Promotional singles
Evanescence stuff