Steve Lillywhite/it
From The Evanescence Reference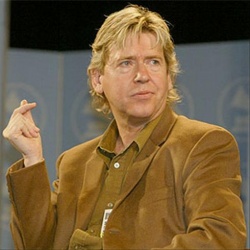 Steve Lillywhite (1955) è un produttore discografico britannico. Entra nell'industria discografica nel 1972, nella casa discografica Polygram con la quale produce un demo per gli Ultravox, per poi passare successivamente alla Island Records. A Lillywhite saranno affidati i nuovi musicisti della nascente new wav. Steve è stato produttore della prima fase di registrazioni del Terzo Album degli Evanescence.
Nel 1980, Lillywhite produce Peter Gabriel (III) che si rivela interessante soprattutto per il suo suono aggressivo. Lo stesso anno contribuisce all'album di debutto degli ancora sconosciuti U2, Boy. Lillywhite produrrà, sempre per i quattro irlandesi anche October e War, i quali saranno il trampolino di lancio verso il successo planetario del gruppo.
Contemporaneamente lavora anche con Simple Minds, Big Country, Toyah, Talking Heads, i Rolling Stones e Annifrid Lyngstad nota con il nome d'arte di Frida ed ex componente degli ABBA.
Negli anni successivi avrà collaborazioni con altri artisti, tra i quali, solo per citarne alcuni: The Pogues, Morrisey, Travis . Riprenderà agli inizi del nuovo millennio anche a produrre lavori discografici per gli U2, vincendo grazie a questi anche dei Grammy Award con i singoli Beautiful Day e Walk On. Nel 2006 grazie a How to Dismantle an Atomic Bomb, nuovo album realizzato con Bono e soci, Lillywhite otterrà altri tre Grammy.
Steve ha lavorato con i 30 Seconds to Mars e Flood (un produttore), producendo alcune tracce del terzo album della band This Is War.
Produzione con gli Evanescence
La primavera del 2010, dopo una pausa seguita dal rilascio di The Open Door (2006) gli Evanescence sono tornati in studio a New York con il produttore Steve Lillywhite per incidere una serie di canzoni sperimentali vicine al genere elettronico, che la Lee in seguito disse essere influenzate da Massive Attack e Portishead. Tuttavia sono incominciati i problemi. Questo è quello che ha dichiarato Amy in un intervista con spin.com:
| | | |
| --- | --- | --- |
| | Nell'insieme non stava uscendo bene. Steve non era la persona giusta. Eravamo in una storta di viaggio sperimentale, in cui abbiamo provato un mucchio di nuovi approcci, cercando di capire ciò che poteva meglio adattarsi. Ho scritto tantissimo senza l'appoggio della band. E poi quando abbiamo tentato di unire i due lavori, non ha funzionato. | |
Nell'aprile del 2011 gli Evanescence hanno deciso di cambiare produttore e di ingaggiare Nick Raskulinecz.[1]
Discografia essenziale
30 Seconds to Mars - This Is War
The Adventure Babies — Laugh
Joan Armatrading — Walk Under Ladders
Big Country — The Crossing, Wonderland, Steeltown
Blue October — Approaching Normal
Climie Fisher — some songs from Everything
Chris Cornell — Carry On
Counting Crows — Hard Candy
Marshall Crenshaw — Field Day
Crossfire Choir — Crossfire Choir
Crowded House — Time on Earth
Darius Danesh — Dive In
Dark Star — Twenty Twenty Sound
Dave Matthews Band — Under the Table and Dreaming, Crash, Before These Crowded Streets, The Lillywhite Sessions (unreleased)
Elwood — The Parlance of Our Time
Peter Gabriel — Peter Gabriel (aka Peter Gabriel III or Melt)
Guster — Lost and Gone Forever
The La's — The La's
Annifrid Lyngstad (Frida) — Shine
Kirsty MacColl — Kite, Electric Landlady, Galore
Matchbox Twenty — Exile on Mainstream
Morrissey — Vauxhall and I, Southpaw Grammar, Maladjusted
Jason Mraz — Mr. A-Z
Ours — Distorted Lullabies
Penetration — Coming Up for Air
Phish — Billy Breathes, Joy
The Pogues — If I Should Fall From Grace with God, Peace and Love
The Psychedelic Furs — The Psychedelic Furs, Talk Talk Talk
Rearview Mirror — All Lights Off
Tom Robinson — Sector 27
The Members - At the Chelsea Nightclub
The Rolling Stones — Dirty Work
Simple Minds — Sparkle in the Rain
Siouxsie and the Banshees — The Scream
The Smiths — mixed the "Ask" single (The World Won't Listen)
Switchfoot — Oh! Gravity.
Talking Heads — Naked
Thompson Twins — Set
Johnny Thunders — So Alone
Toyah — The Changeling
Travis — Good Feeling
U2 — Boy, October, War, How to Dismantle an Atomic Bomb, some songs on The Joshua Tree, Achtung Baby, All That You Can't Leave Behind, No Line on the Horizon
Ultravox — Ultravox!, Ha!-Ha!-Ha!
World Party — Bang!
XTC — Drums and Wires, Black Sea
Note e Fonti
Voci Correlate