Live at Vino's May 1999/it
From The Evanescence Reference
The printable version is no longer supported and may have rendering errors. Please update your browser bookmarks and please use the default browser print function instead.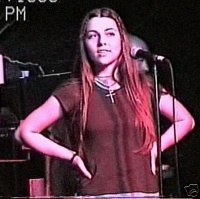 Nell'aprile del 2009 sono state vendute su eBay copie non autorizzate di DVD contenenti un concerto degli Evanescence. Il DVD contiene un'esibizione dal vivo della bend al Vino's (locale sito a Little Rock, in Arkansas), risalente al 7 Maggio del 1999, registrata con "videocamera semiprofessionale da un fan". Questa è la prima registrazione live databile degli Evanescence conosciuta.
Il DVD contiene ben due inediti della band che non erano mai stati pubblicati prima: Don't Fear The Reaper (una cover della celebre canzone dei Blue Öyster Cult) e una canzone dal titolo sconosciuto.
Tracce
Intro
Don't Fear The Reaper (Blue Oyster Cult Cover)
Lineup
Albums

EP
Studio
Demo
Live
Raccolte
Remix
Cofanetti

Singoli
Singoli promozionali
Evanescence stuff