Lacrymosa
From The Evanescence Reference
General information
Written by: A. Lee and T. Balsamo
Recorded in a chapel[1] at Seattle, Washington,[2] the song was originally written for the movie The Chronicles of Narnia: The Lion, the Witch & the Wardrobe, but was scrapped by the director. "I thought it would be awesome for the opening scene, but they wanted something original," Amy stated.[3] However, the producers of the movie later stated that neither Lee nor Evanescence were approached to compose music for Narnia.[4]
It features elements of W.A. Mozart's Lacrimosa from his Requiem in D Minor. The name of the song is a corruption of the Latin term lacrimosa, which means "tearful".[5] This word is also the scientific name for a species of moth, Catocala Lacrymosa, also known as the 'Tearful Underwing'. This species of moth features on the cover of The Open Door's booklet and on the cover for the "Sweet Sacrifice" radio promo CD. Amy stated that she wanted to make Mozart's Requiem "metal" since she listened to it as a teenager.
| | | |
| --- | --- | --- |
| | This was the time for that, for trying things I hadn't been brave enough to try before. I think Mozart would have loved it. He was a rebel.[6] | |

A 22-cord orchestra led by David Campbell (with whom Evanescence had already worked for their performance at the Billboard Awards 2004) starts off the song in order to introduce a choir, which serves as back up for Amy's vocals.
| | | |
| --- | --- | --- |
| | Dave Campbell is an enormous inspiration source for me. He's so talented. The way he arranges orchestral parts is remarkable. It's the element of our music that makes me cry![2] | |

Amy's description of the song:
| | | |
| --- | --- | --- |
| | I saw Amadeus when I was nine years old and fell in love with Mozart. The part of Mozart's Requiem called "Lacyrmosa" is my favorite piece of music ever. I always wished we could cover it, but with programming and guitars and make it cool. It's our moment to try all the things I wanted to and couldn't, so I started messing with it in Protools. Terry wrote some riffs and turned it into this awesome metal epic.[7] | |

A 30-seconds clip of this song was used in the trailer for The Open Door.[8][9]
In the chorus, the choir sings Lacrimosa...dies illa... lacrimosa... dona eis requiem, which roughly translates to "tearful that day... tearful... grant them rest." Though the full lyrics from Mozart's Lacrimosa is: Lacrimosa dies illa /Qua resurget ex favilla /Judicandus homo reus/Huic ergo parce, Deus/Pie Jesu Domine/Dona eis requiem. Amen, which means Tearful that day/on which will rise from ashes/guilty man for judgment/So have mercy, O Lord, on this man/compassionate Lord Jesus, grant them rest. Amen.
Evanescence added "Lacrymosa" to the setlist of their The Open Door Tour (2006-07).[10][11] It was later played at the New York secret show on November 4, 2009.[12][13] It was also played for the first time in three years in Brazil on October 4, 2012.[14]
Versions
Studio versions:
Lacrymosa
Recording date: September 2005 - March 2006
Status: Released
Released on: The Open Door (track #7)
Length: 3:37

Live versions:
Lacrymosa [New guitar solo]
Performing period: October 5, 2006 - January 18, 2007
Examples: Hammerstein Ballroom, New York City (October 9, 2006); Paradiso, Amsterdam, Netherlands (November 6, 2006)
Lacrymosa [Original guitar solo]
Performing period: January 25 - December 8, 2007; November 4 - November 8, 2009; October 4 - October 11, 2012
Examples: Sydney Enterteinment Centre, Australia (February 17, 2007); Pepsi On Stage, Porto Alegre, Brazil (October 4, 2012)
Lyrics
Out on your own
Cold and alone again
Can this be what you really wanted, baby?

[Lacrimosa]
Blame it on me
[Dies illa]
Set your guilt free
[Lacrimosa]
Nothing can hold you back now
[Dona eis requiem]

Now that you're gone
I feel like myself again
Grieving the things I can't repair and willing

[Lacrimosa]
To let you blame it on me
[Dies illa]
And set your guilt free
[Lacrimosa]
I don't want to hold you back now love
[Dona eis requiem]

I can't change who I am
Not this time, I wont lie to keep you near me
And in this short life
There's no time to waste on giving up
My love wasn't enough

[Lacrimosa]
And you can blame it on me
[Dies illa]
Just set your guilt free, honey
[Lacrimosa]
I don't want to hold you back now love
[Dona eis requiem]

Amen
Guitar tabs & sheet music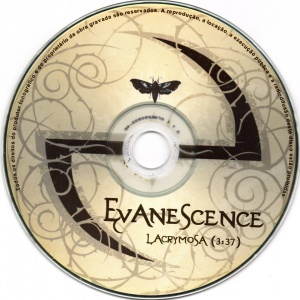 Lacrymosa Brazilian Promo
The CD has a very elaborate artwork, different from the usual CD-R promos from The Open Door album. It is housed in a slimline case. It is believed that around 5 to 10 copies were ever made.
There were 3 to 4 promos of this VERY limited Brazilian edition surfacing the web since 2007. There are a few recognisable typical features of some Brazilian issues such as the writings on the rim and well as the Evanescence logo written in bold (similar to the "Promo Only Videos" DVD).
References
Albums

EPs
Studio
Demo
Live
Compilation

Singles
Promotional singles
Evanescence stuff