Josh Hartzler/it
From The Evanescence Reference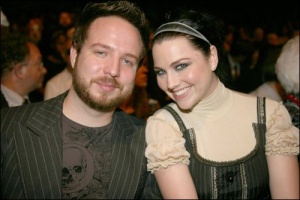 Josh Hartzler è il marito di Amy Lee. È nato nel 1977 e lavora come terapista.
È stato l'ispirazione principale nella canzoni "Good Enough" e "Bring Me To Life".
Josh ed Amy si fidanzarono l'8 gennaio del 2007. Il giorno seguente, la Lee ha annunciato il suo fidanzamento pubblicamente mentre era ospite di Much, uno show canadese. Si sono sposati il 6 maggio del 2007 nella casa di famiglia di Amy a Little Rock, Arkansas, e ora vivono a New York.
Ha avuto modo di collaborare con la moglie nel suo album per l'infanzia Dream Too Much. A lui sono state co-accreditate le canzoni The End of the Book e If You're a Star[1]. Josh è inoltre accreditato per aver co-scritto i testi per la carriera solista di David Hodges contenuti nell'album Musical Demonstrations Pt.1. Le canzoni pubblicate sono "Crowd Of Me" (scritta insieme a Hodges e Stuart Upchurch), "Fly" e "Thursday" (queste ultime due solo con David Hodges)[2]. Ha inoltre co-scritto, insieme a Ben Moody e David Hodges, uno dei singoli di Daughtry, "What About Now", contenuto nell'omonimo album Daughtry.
Voci Correlate
Note e Fonti
↑ Note di copertina di Dream Too Much, Amy Lee, Amy Lee Music, Compact Disc, 2016.