Indigo Grey/it
From The Evanescence Reference
Indigo Grey è un progetto sperimentale del gruppo di ballo Hammerstep, dove si vuole offrire una esperienza dal vivo multimediale che unisca teatro, film, videogiochi e tecnologia interattiva. Il progetto fu lanciato su Kickstarter il 16 gennaio 2015, raggiungendo ben presto i fondi necessari per la sua realizzazione, il 16 marzo 2015.
L'evento principale, atteso per l'11 e il 25 aprile 2016, è stato anticipato da un corto cinematografico (vedi il paragrafo Indigo Grey: The Passage) al quale ha collaborato Amy Lee per la stesura della colonna sonora.
Indigo Grey: The Passage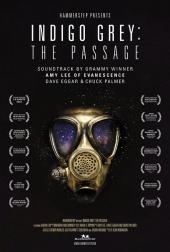 Indigo Grey: The Passage è un corto di sette minuti di "esperienza audiovisiva" che offre un primo sguardo di alcuni contenuti tematici dell'esibizione dal vivo INDIGO GREY. Il film è stato trasmesso in anteprima all'International Short Film Festival 2005 (Los Angeles) ed è stato selezionato ufficialmente in 14 film festival internazionali. Anticipato da un breve trailer, diffuso l'8 gennaio 2015, il film venne pubblicato gratuitamente sul canale ufficiale di youtube degli Hammerstep il 14 settembre 2015.
Scritto e prodotto dai due fondatori degli Hammerstep, Garrett Coleman e Jason Oremus, il film è stato diretto dal pluripremiato regista di Brooklyn, Sean Robinson - che descrive il corto come being about "taking risks and exploring the lines between fantasy and reality".
Amy Lee, Dave Eggar e Chuck Palmer, in collaborazione con Garrett e Jason, hanno composto la colonna sonora originale per il film. All'interno della colonna sonora è possibile ascoltare "Between Words" (già inserita nell'album Aftermath) e "Resurrection" (già eseguita dal vivo durante la quarta stagione di Bluegrass Underground)[1][2]. La colonna sonora del film è stata premiata al Moondance Film Festival nella categoria "Film Score Winners"[3]. Questo è quello che ha dichiarato Amy a riguardo:
| | | |
| --- | --- | --- |
| | Ha a che fare tutto con le emozioni... Sento come se la mia attrazione per la musica in generale riguardi le emozioni che riesce a suscitarmi, le emozioni che posso far provare alla altre persone e il fatto che si possa esprimere qualcosa che vada oltre il linguaggio, oltre le parole. Quando ciò avviene in un film penso veramente che lo scopo di tutta la colonna sonora sia quello di esprimere cosa i personaggi provino quando non stanno parlando, come quelle cose che accadono nel profondo del loro cuore. Sento che questo sia ciò che la musica in sottofondo si suppone debba essere.[4] | |
Indigo Grey: Live Show
So, how does it all go down? And what makes "INDIGO GREY" so special?
Live, walk-through warehouse environment, giving you choices on where to go and what to see, so you can experience the show and the content the way YOU want to. Futuristic tech implemented into the physical setting (including drones, ultimate surround-sound and '3D projection mapping' (digital projected surfaces - walls, floor, ceiling) that transform the show scenes into real-life digital reality landscapes of the future! Interactive theater, guerrilla performances and reality puzzles will allow audience members to actually become involved in certain sections of the show and affect this futuristic, matrix-like world. A tiered ticketing system (Green, Red, Black) will allow you to pre-select what kind of immersion and interaction you want to have during your experience. Don't worry - we won't mess with Green members. Red ticket holders however, bring your initiative - you are going to need it. Black members(exclusive to premium donors) Well, it's Black for a reason - confidential access only.
Note
Collegamenti Esterni