David Hodges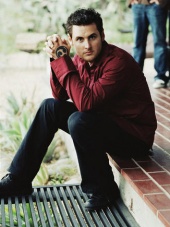 David Hodges was formerly the keyboard/piano player for Evanescence. Joined in 1999 and left in December 2002, just 4 months before Fallen was released. Responsible for most of the string arrangements on Fallen. Collaborated with Amy Lee on Breathe and Fall Into You. Currently in the band The Age of Information (formerly known as Trading Yesterday). The band released The Beauty and The Tragedy in June 2004 and they signed to Epic Records in the summer of 2004 but ended up parting ways with the label in 2005. The band's album 'More Than This' was shelved permanently and will never be officially released. 'More Than This' could be downloaded through the Internet starting in December 2006. They changed their band name from Trading Yesterday to The Age of Information in September 2007 and released an EP on September 11, 2007 entitled 'Everything Is Broken'.
David signed as a solo artist to Warner Brothers on September 18, 2008.[1] To follow progress of the new project, visit the Twitter site: twitter.com/hodgesmusic

David also used to date the original American Idol winner, Amy Lee's cousin Kelly Clarkson.
Solo Projects
Musical Demonstrations Pt.1 (2000)
The Summit Church: Summit Worship (2000) (David has 7 songs on this CD)
The Summit Church: The Genesis Project (2003) (David has 3 song on this CD)
The Light (soundtrack) (2003)
Band Projects
Evanescence - Keyboards, vocals (1999-2002)
The Age of Information (formerly known as Trading Yesterday) - Vocals, Guitars and Piano (2003-present)
Links
Albums

EPs
Studio
Demo
Live
Compilation

Singles
Promotional singles
Evanescence stuff