David Campbell/pt
From The Evanescence Reference
__NOTITLE__
David Campbell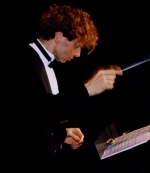 David Campbell compôs o arranjo de cordas para Fallen e The Open Door. Ele também tocou My Immortal com o Evanescence no Billboard Awards de 2004.
Ele faz arranjos musicais, compõe e é maestro de vários álbuns conhecidos. Ele nasceu em Toronto, estado de Ontario, Canadá e tem três filhos: músico Beck, artista Channing, e cantora/compositora Alyssa Campbell (que também canta no coral de The Open Door).
Ele já trabalhou com Alanis Morissette, 10,000 Maniacs, Phil Collins, Michael Jackson, Bon Jovi, Mariah Carey, Kelly Clarkson, Elton John, Kiss, Duran Duran, Leonard Cohen, Stevie Nicks, Eric Clapton, Rod Stewart, Hole, Ayumi Hamasaki, Sum 41, Linkin Park, Evanescence, Avril Lavigne, Will Smith, Fort Minor, Faith Hill, Liz Phair, Lindsey Buckingham, Jimmie Spheeris e inúmeros outros artistas. Ele produziu mais de 400 álbuns de ouro de platina. Campbell é membro da Church of Scientology (Igreja da Cientologia).
Links