David Campbell/it
From The Evanescence Reference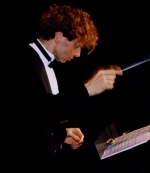 David Campbell compose l'arrangiamento degli archi di Fallen, The Open Door e Evanescence. Ha inoltre eseguito My Immortal insieme agli Evanescence ai Billboard Awards del 2004.
È un arrangiatore, compositore e direttore che ha collaborato in molti album popolari. È nato a Toronto, Ontario, Canada è ha tre figli: il musicista Beck, l'artista Channing e la cantautrice Alyssa Campbell (che ha inoltre cantato nel coro di The Open Door).
Ha inoltre collaborato con Alanis Morissette, 10,000 Maniacs, Phil Collins, Michael Jackson, Bon Jovi, Mariah Carey, Kelly Clarkson, 'Elton John, Kiss, Duran Duran, Leonard Cohen, Stevie Nicks, Eric Clapton, Rod Stewart, Hole, Ayumi Hamasaki, Sum 41, Linkin Park, Avril Lavigne, Will Smith, Fort Minor, Faith Hill, Liz Phair, Lindsey Buckingham, Jimmie Spheeris e numerosi altri artisti. ha prodotto più di 400 album gold and platinum Albums. Campbell è un importante membro della chiesa di Scientology.
Collegamenti Esterni