Difference between revisions of "Cover/tribute bands"
 

Line 58:
Line 58:
 
 
 
 
 
+
 
+
 
+
 
+
 
+
 
+
 
+
 
+
 
+
 
+
 
+
 
+
 
+
 
+
 
+
 
+
 
+
 
+
 
+
 
+
 
+
 
 
 

And also:

 

And also:
---
Latest revision as of 09:54, 23 January 2020

Cover/tribute bands are those that play Evanescence songs. Here are some:
Fallen
Fallen is a UK tribute band consisting of Kyle Newman (vocals), Tom Malin (lead and rhythm guitar), Ben McIlvenna (drums, percussion and programming) and Keith Phillips (bass guitar). They formed in November 2013 and the band members have all played at professional or semi-professional level and have many years of gigging experience behind them.
They play a good mixture from Evanescence's first three studio albums and are very popular amongst crowds.
To view their website, click here.
Two For Tragedy
Two For Tragedy was the band of two 14 year olds, Keshna Sana (Vocals) and Alex Campbell (Keyboards). They mostly covered songs by Evanescence.
Keshna and Alex met in late 2003. A short while after that they started to perform songs with each other, the main one being My Immortal by Evanescence. One of the more notable places this was performed was at the National Folk Festival 2005.
Two For Tragedy was officially founded on the afternoon of the May 30, 2006. A few short weeks after that there was a talent concert at their school called the Winter Fest. The band announced themselves there by playing the song that had brought them together My Immortal. This time they invited a friend of their's, and a great cellist, Joel Davy to accompany them.
Having released their EP called "Imaginary Light" (Life Among The Dead Enterprises) in February 2007 Alex and Keshna brought their project to an end on May 7.
Tracklisting of "Imaginary Light":
Intro
Whisper
Imaginary
My Immortal
Tourniquet
Even in Death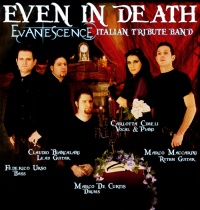 Even in Death was an Evanescence tribute band born in spring 2002 under the name Estesia, showing from the beginning a particular creativity and the originality of their music in which the power of rock guitars is mitigated by sophisticated piano melodies and delicate and well-mixed sounds. So started a laborious live activity, which leads them on several Tuscan stages and rock events where they presented their work. In 2003 the band performed at Donoratico (LI) during an event organized by Emergency and MTV Italia and in the same year, they produced their first EP "POP ART." Later the Estesia project undergoes a radical metamorphosis taking new life and form, even amplifying, the valuable characteristics acquired. The renewal was the add of a new bassist (Federico) and immediately after a new guitarist (Claudio) and in the substitution of the initial male voice, with the female voice (Carlotta) whose characteristics have suggested the inspiration for the creation ofthe present tribute band ,that today is able to give to Evanescence fans, the typical sophisticated atmosphere and, thanks to the determination of newcomers, the surprising energy of the famous Band headed by the charming Amy Lee.
Withered Wisteria
Withered Wisteria is an Alberto's project, who in August 2007 decided to give life to the Evanescence tribute he had dreamt of for some months. Thanks to some friends and well known musicians he was able to organize a first rehearsal, performing Tourniquet, My Immortal and Bring me to Life. After some line-up changes, in December the band completed its line-up and they decided to take part at the contest organized by the official Italian fan club. They started to practice a lot, struggling for be well prepared for their first live. In December they also registered their first demo with "Call Me When You're Sober", at the Music Inside Recording Studio (Carpi, MO). The song was then mixed and produced by Davide Rossi at the Castel D'Azzano (Verona) studio. The first live of the band was performed January 16th at Klakson (Montecavolo, RE). The show was recorded by Valerio "Wally G" Carboni (Music) and Ivano Incerti (video). In the last two weeks of January 2008 Valerio worked on the mix and the editing of the Video "Call Me When You're Sober", required for the contest. The band is now studying and practicing the whole Evanescence repertoire, since 1998. Withered Wisteria wish to create a set list for their shows which starts from the first songs of Evanescence and ends with their last work "The Open Door". They want the audience to participate to the show by choosing songs for the set list.
Lacrymosa
"Lacrymosa" is a project born in Genuary 2011 and began with an exibition at Stazione Birra, one of the most famous live music stage of Rome. The band is composed by Valerio Torcasio and Carlo Iovino from the Evanescence tribute band "Fallen", Giordano Maselli and Greta Di Iacovo form "Dissidia" (another Evanscence tribute band of Rome) and moreover Francesco Lanza. Lacrymosa spread and reproduce with care as possible the music of Evanescence.
Forevanescence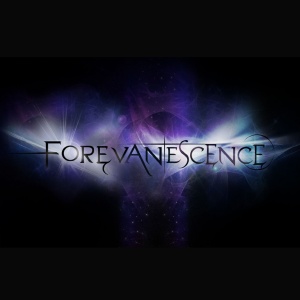 Forevanescence is the UK's premier Evanescence tribute act that has been labelled by audiences as close to the real thing as you can get. The band formed in February 2018 after co founding members Katie & Jon decided they would take their love of the tracks to a live audience. Katie has been a fan of Evanescence since she first discovered Bring Me To Life when she was 12 and has been an avid fan ever since, from seeing them at her home town or travelling to the Czeh Republic to see them on her birthday. Katie has been singing professionally for 13 years and attributes most of her love and ability for singing to having sang along to the Evanescence tracks for many years.
Jon has been playing guitar since he was 16 and first discovered Evanescence through the Daredevil soundtracks 'Bring Me To Life' & 'My Immortal' and after one phone call in November 2017 to Katie, decided to make Foreveanescence happen . The lineup became complete when the remaining members Becky, Alex & Chris joined.
Playing their first gig in February 2019 at Birmingham's rock venue Route 44, they are now taking off and are being booked for shows around the UK. The band are very keen to remain as close to the real thing as possible with most of the members even resembling the current Evanescence line up. The band are also working hard to grow their presence online - you can find and follow their social channels and the content they create which is usually live videos of their gigs, or covers of the tracks such as the 2000 hit 'Going Under'. The founding members plan to meet Evanescence on their latest tour in 2020 at the Birmingham meet and greet sessions.
The band are keen to cover all the popular songs from the repertoire and have even created a 'metal' version of the recently released Synthesis hit 'Imperfection' and are currently waiting to the anticipated release of the new album for 2020 which will be added to the set list.
And also:
Check out for more cover/tribute bands on TributeCity