Anywhere but Home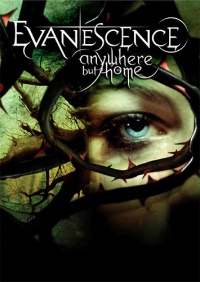 Official Evanescence live CD/DVD set released worldwide on November 22, 2004, and in the US on November 23, 2004. The CD features Evanescence's show at the Zenith in Paris, France on May 25, 2004, and bonus B-Side track Missing. The DVD features a video version of the show, one hour of backstage footage (transcript) (original evboard thread), and all four music videos from Fallen.


The 2003 Billboard Music Awards performance of Bring Me To Life in the Boneyard of The Neon Museum in Las Vegas, Nevada, is included as an easter egg. To view the hidden video: Wait for the main menu and scan over the last option ON THE BOTTOM on the main menu. Then click to the LEFT two times. An evanescence "E" symbol in orange should appear. Click on it to view.

From Billboard.com:
Evanescence fans will have something to celebrate on Nov. 23, when Wind-Up unveils the CD/DVD "Anywhere But Home." The release chronicles a May 25 show at Paris' Le Zenith, with the DVD portion directed by Hamish Hamilton (Madonna, U2). Audio versions of the live tracks are featured on the accompanying CD, as is the previously unreleased studio recording of "Missing."



"Anywhere But Home" blends such hits as "Bring Me To Life," "My Immortal" and "Going Under" with lesser-known tracks such as "My Last Breath" and "Imaginary" from Evanescence's smash 2003 debut, "Fallen," plus a cover of Korn's "Thoughtless."



The DVD portion is loaded with extra content, including videos for "My Immortal," "Going Under," "Bring Me To Life" and "Everybody's Fool," an hour's worth of behind-the-scenes footage and surprises hidden within the navigation menus.
Track Listing
Lineup
Links